League tables 'may show how many pupils finish degrees'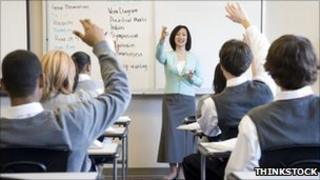 Future school league tables in England may include data on how many pupils go on to complete university degrees, the government says.
Education Secretary Michael Gove said this would encourage schools to prepare students well for university.
It comes amid plans for expanded league tables, showing measures such as individual subject grades and the progress of pupils with special needs.
One teachers' union said the proposal was "completely unreasonable".
Speaking to the Daily Telegraph, Mr Gove said the idea had "absolute merit".
"I know some people might say, how can I be held accountable for what happens in an institution over which I have no control?
"But, if you have educated someone to the age of 18 sufficiently well, and if you give them the right guidance so they make the right choices, then the chances are that they will find the right courses and succeed," he said.
'Focus on elitism'
The Department for Education confirmed it was considering the plan.
"If a school is giving their children a well rounded education they will give them the skills they need to make a success of university. This is just one additional measure to give parents and pupils more information about the quality of schools," a spokesman said.
The teachers' union, the NASUWT, said the government was "once again... focusing on elitism".
General Secretary Chris Keates said: "This is just another addition to the exhausting accountability regime, with all the negative consequences that involves. It's completely unreasonable to hold schools accountable for whether pupils get a degree after they leave school."
She added that there was evidence that raised tuition fees and the cutting of the Education Maintenance Allowance for low income students could mean "far fewer" students are able to study for a degree.
"Schools should not be blamed for the failed policies of the coalition government," she said.
Russell Hobby, general secretary of the head teachers' union the NAHT, warned against focusing too much on raw data alone.
"We must be careful to ensure that data is our servant not our master," he said.
"League tables distort our education system... The potential for a two-tier system based on misleading data is very real," he added.
The Department for Education has already said it is planning to revamp its yearly school performance tables to show:
The proportion of students at each school gaining 5 A*-C passes including maths and English, when vocational subjects a not taken into account (the government says the current system, where some such courses account for up to four GCSEs, encourage schools to "game" the system by entering students for "low-quality" courses)
A measure showing how well pupils from deprived backgrounds perform at each school
A measure showing how well pupils with special educational needs perform at each school
A breakdown of the marks pupils at each school get in each individual subject
Data on what each school's pupils go on to do when they leave school
The government says it plans to enable parents to select the measures they are most interested in and use it to create ranked tables for their local area.
And this year it introduced the English Baccalaureate - the proportion of pupils gaining good GCSE passes in English, Maths, two science qualifications, a language and geography or history - as a measure.
It said the intention was to ensure pupils gained a "broad education", but critics said it was unfair to rate schools on a measure introduced after the students sat their exams, and that the subjects included were too narrow.
England is the only UK nation to publish school league tables.
Wales and Northern Ireland abolished league tables in 2001, followed by Scotland in 2003. Scottish exam data is still published online, but not in a format where schools can be easily compared.