Walks in the country 'should be part of school day'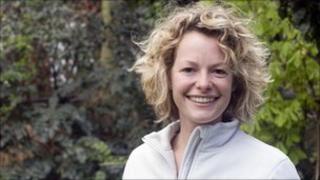 Wildlife presenter Kate Humble says walks in the country should be compulsory for UK school children.
Humble told the Radio Times that if children enjoyed the countryside, they would be more likely to protect it in the future.
She said the countryside was "great for your brain and great for your soul and great for your bum".
She promised to take up her thoughts with the Education Secretary Michael Gove.
"It should be obligatory for every school child to experience the countryside," she said.
"There's a fantastic RSPB reserve on the edge of Newport. I took a bunch of kids pond-dipping there recently.
"At first they were all saying 'Whatever', but then one of them caught a stickleback and, such was the excitement, you'd have thought she had landed a 50lb salmon.
"Children are the future. If you give them access to the countryside, they'll protect it."
'Risk-adverse culture'
Humble's comments came as the presenter prepares to return to BBC Two next week for a second series of Lambing Live.
Lambing Live was one of last year's surprise hit shows.
A spokesman for the Department for Education said: "We agree - the risk-adverse culture that has built up in our schools is preventing children learning valuable lessons about nature and the great outdoors.
"We are ripping up the health and safety red tape surrounding school trips to give teachers greater freedom to routinely explore outside the classroom.
"Keeping children wrapped up in cotton wool simply denies them lifelong learning opportunities and fresh air."