Truancy rates in England fall slightly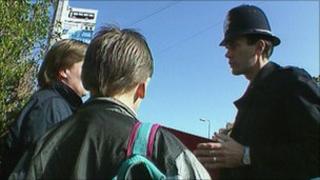 Unauthorised absences in state primary and secondary schools in England fell slightly last year.
Statistics published by the Department for Education show the percentage of half days missed fell to 1.04% in 2009-10 from 1.05% the year before.
While unauthorised absences in secondary schools fell from 1.49% in 2008-09 to 1.45% last year, primary schools saw a rise from 0.64% to 0.67%.
Schools Minister Nick Gibb said absenteeism was "still too high".
The figures show unauthorised absences in special schools has improved from 2.14% of half days being missed in 2008-09 to 1.98% in 2009-10.
The statistics are likely to raise fresh concerns that parents are still taking pupils out of school during term time to take advantage of cheaper family holiday deals.
Family holidays were the second most commonly reported reason for absence. One in four days was not authorised by the school.
But the most common reason for absence is still illness, the figures show.
Persistent absenteeism
The figures also indicate 1.4% of girls in primary schools in 2009-10 were classified as persistent absentees (missing 64 or more half days a year, either authorised or unauthorised).
This compares to 1.5% of boys in primaries.
However, in secondary schools, girls were more likely to be persistent absentees - 4.6% compared to 4.2% of boys.
Of all pupils with a statement of special educational needs (SEN), 8.4% were persistent absentees. This is 4.7 times higher than the number of persistently absent pupils who did not have SEN.
More than half (52.3%) of all persistent absentees live in the 30% most deprived areas and account for 8.3% of all absence.
'Still too high'
Mr Gibb said that despite the "welcome" drop in secondary schools, absenteeism was "still too high".
"We know that children who are absent for substantial parts of their education fall behind their peers and can struggle to catch up," he said.
The government's Education Bill will "put teachers back in control of the classroom so pupils can learn without disruption and teachers have more power to tackle truancy", Mr Gibb said.
"Reducing truancy rates is critical to our objective of closing the attainment gap between those from poorer and wealthier backgrounds."