Teach First to place teachers in primary schools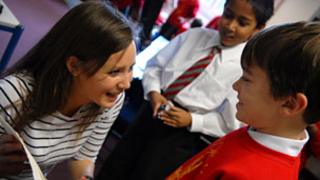 Charity Teach First is to place trainee teachers in England's most challenging primary schools for the first time.
About 80 trainees will join primary schools this September, but ultimately the charity wants to provide about 5% of all primary teachers.
The independent charity, which trains and fast-tracks top graduates into teaching, also wants to train primary heads in due course.
Currently it provides 5% of teachers to England's secondaries.
Teach First only places teachers in schools with what it describes as "challenging circumstances".
'Inspirational teachers'
It defines this as schools with more than half of their pupils in the lowest family income bands.
Founder and chief executive Brett Wigdortz said his charity was committed to addressing educational disadvantage.
"In order to do this we need to engage with children as early as possible, and that means placing inspirational teachers into primary schools in challenging circumstances," he added.
"We recognise the very specific needs of primary pupils and have taken great care to ensure our teachers will receive the best training available including a thorough grounding in key skills such as literacy and numeracy teaching, how to engage parents in their children's learning and encouraging positive behaviour for learning."
The move follows a pilot scheme in 21 primary schools over the past three years.
A new primary-focused training programme will be offered in partnership with three universities, the Institute of Education, the University of Leicester and the University of Warwick.
Its development has been overseen by a group of primary teachers and academics and approved by primary education experts.
'Demanding job'
Mr Wigdortz added: "Beyond making a direct impact on pupils in classrooms, longer term we aim to work with others in the sector to address the growing shortage of primary school leaders and to raise the profile and status of primary school teaching as a challenging and intellectually stimulating profession among top graduates."
Teach First trainees have to have at least a 2.1 honours degree and pass the charity's rigorous selection process, which requires them to demonstrate the key attributes needed for teaching.
The charity says it turns away more Oxbridge graduates than it recruits.
New primary participants will fill vacancies in a school and teach the equivalent of a newly qualified teacher's timetable (80% of a full-time post) after just six weeks' intensive training.
Most post-graduate initial teacher training courses last about 18 weeks.
At the end of the first year the participants will have completed their PGCE and will also have the option of completing a masters degree by the end of the second year.
Christine Blower, general secretary of the National Union of Teachers, said being a primary school teacher was a very demanding and difficult job.
She added that relevant PGCE teacher training and and undergraduate courses addressed these demands.
"While obviously it is important to have good specific subject knowledge or an enthusiasm for teaching, this will not suffice in the primary school environment.
"While Teach First's desire to tackle inner city deprivation is admirable, this cannot be addressed by teachers alone," she added.
Rapid expansion
The educational charity has expanded rapidly over the past few years.
It began with about 180 teachers in London secondary schools and since it started in 2002 has recruited about 2,400 teachers in more than 250 schools in the East Midlands, West Midlands, London, north-west and north-east of England.
It won financial support from both the previous Labour government and the current coalition government.
In July last year it was given a £4m grant to help double the number of promising teachers in England's schools and to look at how it could attract more top maths and science graduates going into teaching.
Mr Wigdortz said: "We've grown 40% from last year to this year and we are planning to grow further."
He said the charity's longer-term aim was to provide a fifth of all England's teachers in challenged schools and to become the biggest recruiters of graduates.