Oxbridge fails to boost number of state pupils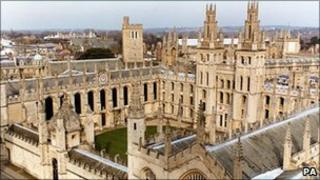 The universities of Oxford and Cambridge both failed to increase their share of students from state schools last year, official figures show.
Oxford took a slightly lower share of state pupils, 54.3%, in 2009-10 than the 54.7% it took in 2008-9, Higher Education Statistics Agency data shows.
Cambridge's state intake stayed at 59.3% of full-time undergraduates in 2009-10.
Oxford said it took on more state pupils for the 2010-11 academic year.
The new figures come just after both universities said they would charge, along with numerous other universities, tuition fees of £9,000 a year from 2012, under the new higher education funding regime.
A spokeswoman for Oxford University pointed out that the latest Hesa data related to the academic year 2009-10.
It added that its own published figures for the current academic year suggested it had increased its proportion of undergraduates from state schools to 55.4%.
And it said that preliminary figures for the coming academic year showed 58.5% of offers went to candidates from the state sector.
The University of Cambridge said it remained determined to ensure that it admits the best and brightest students regardless of their background, and invests significant time and resources in outreach activity with under-represented groups to make this a reality.
Both universities missed their 2009-10 targets, which are known as benchmarks and are created by Hesa after extensive statistical analysis.
Oxford had a locally adjusted benchmark of 67.3% of full-time undergraduates on their first degree courses coming from state schools, whereas Cambridge was aiming to get 68.1%.
'Outreach work'
The Oxford spokeswoman said the benchmark might be unrealistically high given the realities of school attainment.
She added: "Oxford is committed to increasing the number of students from disadvantaged backgrounds, and has proposed what we believe will be the most generous student support package in the UK from 2012.
"Oxford already spends £2.5m a year on outreach and intends to increase this to up to £3.4m in 2012.
"From 2012 Oxford plans to put £12m a year into financial support in addition to its outreach spend."
The Cambridge spokeswoman said it was planning to introduce a new target of getting between 61 and 63% of its undergraduates from state schools, without compromising entry standards.
'Hard work'
She added: "From 2012 the university will offer one of the most extensive and flexible packages of financial support in the UK.
"In particular students will be able to choose whether they wish to take financial support in the form of a fee waiver or a maintenance bursary, allowing them to tailor support to their own needs.
"The university has also committed to spending an extra £1m to expand widening participation work, which aims to help raise the attainment and aspiration of state school pupils.
"This is in addition to the £2.25 million a year which we already spend on outreach activities."
Overall there has been a slight increase in the proportion of state pupils at universities in England.
It increased from 88% of full-time undergraduate intake in 2008-9 to 88.4% in 2009-10.
Director of Fair Access Sir Martin Harris said: "It's encouraging to see a continuing positive trend in the Hesa widening participation performance indicators for the sector, with greater numbers of students coming from low participation neighbourhoods, lower socio-economic groups and state schools.
"Both this and news that participation in higher education now stands at 47% are testament to the hard work and commitment by institutions to improve access by disadvantaged students."
Dr Wendy Piatt, director general of the Russell Group of the most selective universities, said the figures illustrated once again the particular challenges that they faced in widening participation from state schools and colleges as well as from lower socio-economic groups.
"Russell Group universities are committed to broadening access so that every student with the qualifications, potential and determination to succeed at a leading university can do so, whatever their background.
"But it is really important to understand that the key reason why too few poorer students even apply to leading universities is that they are not achieving the right grades at school.
"Students who come from low-income backgrounds and/or who have attended comprehensive schools are much less likely to achieve the highest grades than those who are from more advantaged backgrounds and who have been to independent or grammar schools."