Fraudsters target students, warns Student Loans Company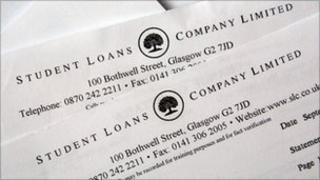 UK students have been warned their loan payments may be targeted by fraudsters.
Fraudulent emails are being sent to students asking for their personal and banks details, the Student Loans Company said.
It said emails are common at this time of the year because fraudsters know students are about to receive their final loan instalments.
The numbers of students who have given their details has more than tripled over the last year, the SLC warned.
The SLC said it would never request personal details by email.
SLC's security manager Robert Hurt said: "We are aware that some students are being affected by these scam emails and we want to ensure that they do not respond to these.
"We monitor this issue very closely and aim to close phishing sites down as soon as students alert us to them, to protect other students.
"Students need to work with us to ensure their identity and financial details are protected and not compromised."
The SLC was recently alerted to a phishing scam which affected around 50 students from Sheffield Hallam university.
"We are working with the university to investigate the extent of this and the police have been informed," the SLC said.