Universities struggle with 'unparalleled uncertainty'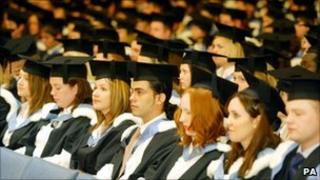 A ripple of laughter ran through the assembled university leaders as a very simple question was put to Universities Minister David Willetts from the conference floor: "When will the White Paper be published?"
The government announced in November that university tuition fees in England would rise to up to £9,000 per year in 2012, but its wider plans for a major shake-up of the sector aimed at creating a market-style system have not yet been detailed.
Ministers initially hoped to publish them in the White Paper around the end of 2010 - but delayed it first to "spring", and again to "summer".
Mr Willetts told the questioner at the Higher Education Policy Institute conference that he would be "very surprised" if it was not out before the parliamentary recess begins in late July.
In the meantime, universities have had to print prospectuses, set their tuition fee levels for September 2012 and write "access agreements" on how they will attract disadvantaged students, and are soon to start holding open days for the students who will be the first educated under the new fees regime.
But many vice chancellors chatting in the conference margins said they lacked key information - much of which is expected in the White Paper - about the future for which they were planning.
'Complicated picture'
In a speech, Professor Shirley Pearce, Vice Chancellor of Loughborough University, said the sector faced "unparalleled uncertainty".
She pointed to ministers' threat to cut teaching grants further if universities pitch their fees higher than the government expected - and also to uncertainty over which subjects will still receive some public funding.
Teaching grants are being gradually withdrawn almost completely from most courses, with tuition fees expected to cover the cost.
Ministers have said there will still be financial support for some subject areas such as science, technology and some foreign languages, but a list for 2012 is not expected until the autumn.
Professor Kelvin Everest, pro-vice chancellor (student experience) at Liverpool University, said this was a "big problem" at his institution, where large numbers of students take such courses.
"Not knowing… makes for a very complicated picture - it's hard to predict exactly where you'll be financially," he said.
The new access agreements are also "unknown territory", he added.
Universities submitted their proposed agreements to the Office of Fair Access in April, but do not expect to hear before July whether these have been approved.
"That's something nobody's clear about at the moment - whether they're likely to ask you to come up with something different, or ask you to set stricter targets - we've no idea," said Prof Everest.
Professor Bernie Morley, pro-vice chancellor (learning and teaching) at the University of Bath, said this made it hard at open days to give details of the bursaries and fee waivers for low-income students, as these still need Offa approval.
"It will mean that we can't give all the information to our students that we'd really like to," he said.
Numbers question
Another concern is how many students universities should plan for.
There are already concerns about whether the government can afford the cost of subsidising student loans, with the majority of universities opting for £9,000 fees.
Mr Willetts maintains that the government's predicted average fee of £7,500 will not be far wrong when fee waivers, private providers and further education colleges are taken into account.
But it is clear that student numbers will have to be limited - the details of how this will be done are among the information promised in the White Paper, as are details of whether universities will be able to offer extra "off-quota" places not funded by the government.
The document is also expected to propose a model where a proportion of student places - perhaps 10% - would be held back and then allocated to universities charging lower fees as a measure to encourage course providers to keep charges down.
However vice chancellors remain unclear about whether and how this will be implemented.
Such unknowns contributed to making setting tuition fees the hardest decision so far, said Dr David Mackintosh, the deputy vice chancellor of Kingston University, who said most institutions "agonised" over the issue.
"When you're planning what your finances are going to look like in the future, you need to know what your income is, and at the moment we've had to make guesses," he said.
'Time to consider'
Professor Edward Acton, vice chancellor at the University of East Anglia, is among a number of university leaders who would have liked more detail sooner on plans to expand the role of for-profit and other "alternative" education providers - also expected in the White Paper.
Although it will not affect UEA a lot, he says, "there are institutions where your calculation about what fee will secure a jolly good student recruitment is affected by what the rivals' might be".
That depends on how quickly private providers can enter the sector, he explained, which in turn depends on how far they're going to be subject to the same regulation and requirements to publish information as mainstream universities - "and that's all a bit hazy".
And a further question remains - how will prospective students react to higher tuition fees?
Professor Steve West, Vice Chancellor of the University of West England, Bristol, said he was planning for a 15% drop in 2012 intake, at least in part because of fears that students will be put off by the increased fees.
But he says this is just an estimate: "We know the trends, the difficult bit is we don't know how the market is going to respond when you suddenly change parameters - we've got no idea."
Labour has accused the government of "making it up as they go along" in a policy that has become a "fiasco" and a "car crash".
But the Department for Business, Innovation and Skills says the White Paper will contain proposals to "sustain an internationally excellent higher education system", although it is a "complex area of policy".
The department says it has taken the time to "fully consider all the challenges" the sector is facing.
And while words such as "difficult" and "frustrating" came up often among the university representatives, there were also those who spoke of enjoying "interesting" and "challenging" times, "opportunities" for the sector, and being glad the government was not rushing its plans.
"It's a stressful period, but on the other hand it is a potential way forward for funding higher education… and it will keep the pressure on us to make sure that in international terms we're highly competitive," said Prof Everest.