Oxford academics plan 'no confidence' vote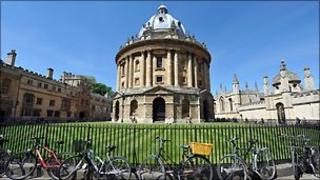 Oxford University academics are seeking a symbolic vote of "no confidence" against the government's handling of higher education in England.
Academics have submitted a motion of no confidence to be debated next month by the university's governing body.
The campaign group behind this proposal, backed by 177 academics, calls on the university to "stand up and speak out" over budget cuts.
The university is planning to charge £9,000 fees from next year.
Policy 'unravelling'
The Oxford University Campaign for Higher Education wants to hold the vote as part of its protest against the government's university policy - in a way that mirrors the no confidence votes held by health unions against the proposed NHS overhaul.
It wants the university's "congregation", the so-called "parliament of dons", to "communicate to government that the University of Oxford has no confidence in the policies of the Minister for Higher Education".
"Academics from every discipline and every political stripe are united around this idea, and we are proud to be working together with the students on an issue that affects the entire community," said the campaign group.
The academics' move has been backed by the students' union at the university.
Union president David Barclay said he was "delighted that we are finally seeing a university taking a stand against the government's dangerous and rapidly unravelling plans for higher education".
"This is about the unprecedented and wholesale cuts to the public funding of the arts and humanities, as well as the promotion of a toxic consumerism which will undermine the spirit of academic community," said Mr Barclay.
The government is expected to put forward a White Paper in the summer setting out a more market-led system for higher education in England.