Gove plans to lift curbs on foreign teachers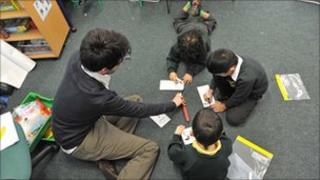 The government plans to make it easier for foreign teachers to work in schools in England, without having to retrain.
Education Secretary Michael Gove said he intends to make changes initially for teachers who qualified in Canada, Australia, New Zealand and the US.
Currently, fully trained teachers from these countries must undergo further training and assessment before being considered ready to teach here.
Mr Gove said teaching qualifications from these countries were suitable.
Ministers will be changing the rules from early 2012.
Further research will be commissioned to see if the same changes could be applied to teachers from other nations in the future.
Schools and local authorities who sponsor foreign teachers will still have to check their individual suitability.
Speaking in the Commons on Monday, Mr Gove said: "One of the aims of my department is to make sure that the most talented people possible are teaching our children, and it is already the case that teachers from the European Economic Area can teach in our schools.
"Today I want to extend that freedom to teachers from the Commonwealth countries such as Canada and New Zealand and Australia, and I hope that other Commonwealth countries like South Africa, Jamaica and Singapore can join in due course."