Oldham schools divided by race, study finds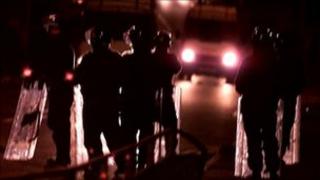 Schools in Oldham are largely polarised along racial lines, research has found.
More than 80% of primary school pupils of Pakistani or Bangladeshi origin attended schools, in 2009, in which no more than 20% of the pupils were white.
The study, by Bristol University, found more than 70% of white pupils were in "majority white" schools, in which at least 80% of pupils were white British.
Oldham Council said it did not dictate where parents should send children, but was trying to encourage mixing.
The report says the picture has changed little since 2002, when 74% of Pakistani and 85% of Bangladeshi primary pupils attended minority white schools and 92% of white British pupils attended majority white schools.
The research - by Simon Burgess and Rich Harris at Bristol University's centre for market and public organisation - was conducted 10 years after riots in Oldham that saw confrontations between white and Asian, largely Pakistani, gangs.
"While the precise triggers of the rioting remain controversial, there is general agreement that a key underlying factor was the polarised nature of schools and communities in the towns," the report says.
At secondary school level, the research found that 60% of Pakistani pupils and 65% of Bangladeshi ones were in the "minority white" schools.
The study suggests the lack of integration between children in the town could be explained partly by catchment areas, as well as by the fact that more than 30% of primary schools and 40% of secondary schools are Roman Catholic or Church of England, which ask for "demonstrable practice of faith" in their admissions criteria.
It could also be because parents wanting to choose integrated schools are unwilling to be among the only ones to do so.
"It is undoubtedly very hard to be the first mover and as a parent to lead a movement for integration by applying to a school numerically dominated by another ethnic group," the report says.
Academy hope
The 2010 opening of The Oldham Academy North, which aims to promote integration and social cohesion, could help, the study says.
Professor Burgess said: "Parents may prefer a mixed, integrated school, but the fact that the school system is so highly segregated means that they are forced to send their children to essentially mono-ethnic schools.
"More pessimistically, it could be that there are few mixed schools because no-one really wants a mixed school."
The study says about 60% of primary school pupils in Oldham are from a white British background, compared with 72% nationally.
And 17% of primary pupils are of Pakistani ethnicity and 14% of Bangladeshi ethnicity, compared with 4% and 2% respectively for England as a whole.
Responding to the research, Oldham Council said its primary schools "reflect the communities in which they are based and the choices that parents make when deciding where to send their children to school".
The council said it taught children about the history of Oldham's changing population and ran linking between schools to boost interaction between pupils of different ethnic and religious backgrounds.
The council also said research on Oldham sixth-form colleges had shown "high levels of quality relationships between students from different cultures and backgrounds".