LSE is first elite university not to charge top fees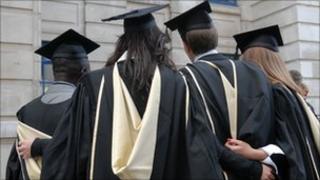 The London School of Economics has become the first elite university to charge less than £9,000 in fees.
From 2012/13, the annual tuition fee for UK and EU undergraduates at the university will be £8,500.
The university said it was charging below the maximum to send "a clear message that LSE welcomes students from all backgrounds".
But the LSE students union said it was "disappointed" the fees were not lower.
Other English research-intensive universities in the Russell and 1994 Groups have opted for £9,000.
Birkbeck, University of London, is the only other member of those groups to have said it may charge less than the maximum.
More than 90 universities in England have so far revealed their plans for undergraduate tuition fees for 2012 and the BBC has compiled a list of who is charging what.
Almost three quarters want to charge £9,000 a year for some or all courses.
'Exceptional value'
Earlier this month, the LSE's Academic Board voted narrowly in favour of charging £8,000.
The final decision rested with university's decision-making Council and it opted for the higher figure of £8,500.
LSE director Professor Judith Rees said, "We are determined to preserve academic standards and ensure that all students with the ability to benefit are not deterred from applying to LSE.
"In recent years we have put a great deal of resource into widening participation activities and are delighted that we can now expand these. Our new fee package allows us to provide exceptional value for all students while continuing to target funding on the poorest."
However, the LSE students union said charging £8,000 "would have made a more substantial impact in reducing the deterrent effect the increase in fees will cause".
Its general secretary, Charlotte Gerada, said the choice of £8,500 looked "incredibly weak and tokenistic".
"LSE prides itself on independent thinking, but the arguments for £9,000 fees in today's council were mere regurgitations of the rhetoric this coalition uses that has seen an end to our higher education as we know it," she said.
The fees increase will come into force in September 2012, with universities permitted to charge between £6,000 and £9,000 per year, an increase from just over £3,000 at present.
Fees will be paid up-front in loans by the government, and then repaid after the student graduates and begins earning more than £21,000.
The government says the system is fair and progressive and the lowest-earning graduates will be better off than at present.