Cambridge academics seek 'no confidence' vote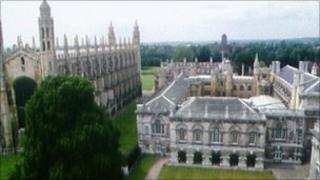 Cambridge University academics are joining their counterparts in Oxford by calling for a vote of no confidence against the government's handling of higher education in England.
About 150 academics have signed a motion - known as a "grace" - on the issue.
This could lead to a vote by the thousands of academics at the university.
The government says its changes are needed to create a sustainable system.
From next year, universities in England will be able to charge up to £9,000 a year for undergraduate degree courses.
On Tuesday Oxford academics are due to vote on their motion attacking the changes.
Dr Jason Scott-Warren, senior lecturer in the faculty of English, is one of those behind the Cambridge motion.
He told the BBC News website academics were hoping the government would re-think its approach to higher education "in NHS-style".
The government is re-examining its plans for changes to the health service following an outcry from doctors.
"If Oxford and Cambridge and other academics across the country speak out against the changes, it's possible that will force government to re-think," he said.
"The policies seem to have been badly thought-through and are unravelling as they proceed," he added.
"We're only really beginning to understand the implications of the new government policy as it unfolds over time. And the more we see of it, the more damaging it appears to be."
The "grace" urges the university to tell the government it has "no confidence in the policies of the Universities Minister" (David Willetts).
The president of the Cambridge University Students' Union Rahul Mansigani said: "This is an important symbol of Cambridge academics voicing their opposition to disastrous government policies, including fees".
'Fairer system'
Under the government's plans, higher fees are due to replace money being cut from many teaching budgets. Ministers say the changes will mean universities in England will receive more money than at present.
A spokesman for the Department for Business, Innovation and Skills said: "Our student and university finance reforms are fairer than the present system and affordable for the nation.
"No student will be asked to pay upfront costs, there will be more financial support for poorer students and those who go on to earn the highest incomes will make the largest contributions after they have graduated.
"Our reforms put students in the driving seat while putting universities on a sustainable footing for the future."