Simon Hughes says English universities should cut costs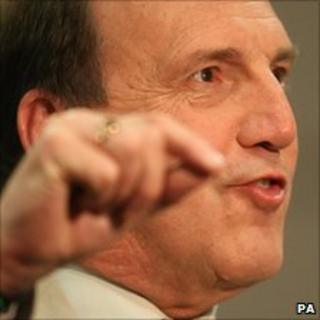 Universities should cut costs not "cry foul" that the rise in tuition fees to £9,000 will not be enough, Lib Dem deputy leader Simon Hughes has said.
The government's access to education advocate told the BBC they should look to cut the wages of vice-chancellors.
He also urged inner-city schools to offer scholarships so poorer students were not barred from attending.
Grants are being withdrawn almost entirely from most courses with tuition fees expected to cover the cost.
The Lib Dems pledged to phase out fees before the coalition opted to allow universities in England to raise them to up to £9,000, earlier this year.
More than 20 Lib Dem MPs voted against the plan, while Mr Hughes abstained.
Value for money
Those who supported it, including leader Nick Clegg, were criticised by opponents of fees as all Lib Dem MPs had signed a pre-election pledge not to raise them during this Parliament.
A charge of £9,000 is the maximum allowed under the new rules.
Mr Hughes said everyone would rather see plenty of central government money for universities, but they, like the welfare state and local government, have had to take cuts to meet the deficit.
He told the BBC's Politics Show: "A lot of them [universities] are going to cry foul at the moment, whereas in fact what they need to do is make sure they give good value for money.
"Lots of universities have highly paid vice-chancellors, highly paid lecturers - actually not lecturing for many hours a week.
"So the universities need to do a bit of cost-saving themselves so that they are delivering a good product for the students but not spending money on things that are not for the product."
He conceded some universities "may disappear" under the new regime and said it was "unlikely" many would go private to survive.
"I think a few universities which have struggled to make their books balance may disappear. I think other universities may realise that they are putting on courses which are not very popular," he said.