Teachers in Wales in favour of strike over pensions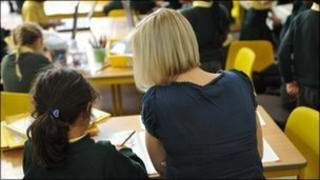 Two teaching unions in Wales have backed a programme of strikes with colleagues in England over changes to their pensions.
Members of the National Union of Teachers (NUT) and the Associations of Teachers and Lecturers (ATL) are expected to walk out on 30 June.
ATL Cymru said it had "no choice" but to strike over changes which would mean people working longer and getting less.
The UK government says any changes will be fair and affordable to the nation.
The changes are being made to pensions across the public sector in a bid to save the Treasury millions of pounds.
But with both unions striking, it could mean potentially every school in England and Wales is hit this summer.
Head teachers are also on the verge of balloting on industrial action over the same issue.
About 220,000 NUT members were balloted over the pensions changes. Around nine out of 10 (or 92%) of those who voted, backed the strike action with a turn-out of 40%.
Just over half of the ATL's 160,000 members took part in a separate ballot over changes to the Teacher Pension Scheme - the rest are not members of the scheme.
Some 83% of the ATL members who voted backed the strike action. The turn-out was 35%.
A strike on June 30 would be the first time in the history of the usually moderate ATL that the teachers' union takes national strike action.
The NUT last held a national strike in 2008.
Dr Philip Dixon, director of ATL Cymru said: "This action was forced on us by Westminster.
"The government there gave us no choice because it is planning to announce large increases in pension contributions within the next few weeks."
Mr Dixon said the new measures were a "3.5% tax on teachers and lecturers", but said if the UK government negotiated in good faith then disruption could be averted.
However, he added: "But if it continues to push ahead with these plans we have no choice.
"We will defend teachers' pensions and there will be a strike.
"We are pleased that we will be joining colleagues in the National Union of Teachers who have recorded a similar result in favour of action.
"This means that the vast majority of teachers in Wales are prepared to strike to defend their rights."
David Evans, Wales Secretary of the NUT said: "Today's ballot result has given a clear mandate. Our members have said that it is time for action."
He added: "Many will lose up to £100,000 or even much more over the life of their career and retirement when the added contributions, additional years work and reduced income are taken into account."
The NUT will make a formal decision on a strike date on Wednesday.
Lecturers and academics at the UCU lecturers' union have already time-tabled action for 30 June over the same issue.
The PCS union, representing civil servants, is expected to walk out then too. The results of their ballot are due on Wednesday.
Wales-based education union UCAC, which represents 5,000 teachers and lecturers, decided last month to ballot on strike action.
A spokesman for the Department for Education said the government was committed to working openly and constructively with unions.
He added: "But we are clear that a strike by teachers will only damage pupils' learning and inconvenience their busy working parents. The well-being and safety of pupils must remain paramount."