Sats tests shift more to teacher assessment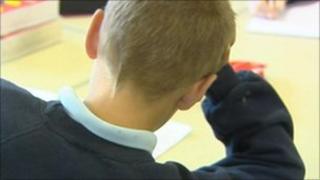 Primary school Sats tests in England will use more assessment by teachers, as the government accepts the review carried out by Lord Bew.
The review called for the English creative writing test to be replaced by a composition which will be assessed by teachers, rather than outside markers.
This test has been controversial this year, with almost 2,000 head teachers voicing fears about marking problems.
Lord Bew said the changes should have the "confidence of all parties".
His review looked at the testing, assessment and accountability of schools in the final year of primary school.
This is when 11-year-olds take Sats tests in English and maths which are used for primary school league tables.
'Outrageous'
These tests have proved contentious for schools - with a dispute this year over the quality of marking in part of the English test and a boycott of the testing regime last year by 4,000 schools.
More than a third of heads responding to a survey from the National Association of Head Teachers claimed that there were "severe" or "outrageous" problems with this year's marking.
But this disputed test is now going to be stopped.
The previous government had already reduced the level of externally-marked testing when science was removed.
Lord Bew's proposals, published last month and now formally accepted by ministers, will mean that part of the externally-marked testing for English will stop from next year.
It will mean that next year there will be externally-marked tests in maths and reading.
The creative writing test will be replaced by a composition which will be marked in schools by teachers.
Teacher assessment will make up the "larger part" of the overall writing mark.
But the writing part of the English test is still likely to also include some external marking, says the education department.
There will be a pilot to develop a test in spelling, grammar, punctuation and vocabulary.
In terms of school accountability, league table results will include a rolling three-year average, which is intended to present a more rounded picture, rather than a single snapshot of one year.
There will also be an emphasis on pupils' progress - showing how much they have improved. This will include a distinction between the results of pupils who have been at the school for at least two years - and those who are new arrivals.
Schools have been concerned that they can be judged on the poor performance of pupils who have arrived at the end of primary school, before they have had the chance to help them improve.
Secondary school transfer
The Association for School and College Leaders welcomed plans for secondary schools to receive primary school teacher assessments before the test results are published.
This will give secondary schools more information to help them prepare for their new intake of pupils.
"We are pleased that the government is committed to getting information to secondary schools more quickly. The beginning of the autumn term is too late," said ASCL's general secretary Brian Lightman.
The government's shift towards more teacher assessment was welcomed by Nansi Ellis, head of education policy at the Association of Teachers and Lecturers.
"But we don't think it has gone far enough. It is still clinging to external testing for reading and maths and is introducing a new test for spelling, and while testing continues to be used to rank schools teachers will feel under pressure to teach to the test," she said.
Education Secretary Michael Gove said: "The system in future will be fairer for teachers and pupils. It will give parents the vital information they need and will hold schools accountable.
"I have always been clear that external accountability is essential if we are to drive up standards and Lord Bew's report recognises this. Publishing a greater range of data will be fairer for schools - schools should not be judged on one measure alone."
Sats tests are only taken by pupils in England. They were abolished in Wales and Northern Ireland and were never used in Scotland.