Private tutors to be based in state schools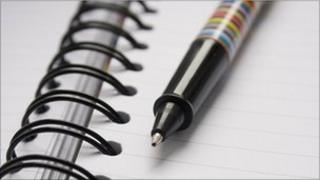 A private tutor company is going to set up learning centres within five state secondary schools in England, selling extra lessons to schools and parents.
The schools will pay the TLC Education Group £22 per 80-minute additional lesson for their own pupils.
Parents of pupils from other schools will pay £27 to attend lessons.
Andrew Hutchinson, head of the Parkside Federation, where tutors will be based, said it would provide one-to-one lessons for a wider range of pupils.
But the ATL teachers' union attacked the scheme as an "unethical use of public money".
'Pragmatic decision'
Head teacher Mr Hutchinson said the tutoring service was a flexible way of supporting pupils, such as those arriving from primary school who needed catch-up lessons or pupils preparing for GCSEs.
Private tutors were already being used by families who could afford it, he said.
"It's a pragmatic decision - trying to broaden the opportunity," said Mr Hutchinson, who runs two Cambridge secondary schools as part of a federation.
And he says that schools should not be "hung up on dogma", but should be finding ways to "provide a more bespoke package for individuals".
A head teachers' union said that "buying in" extra tuition in this way could "make sense".
"Clearly schools will target resources to best meet students' needs and there is good evidence of the benefits of one-on-one tutoring, especially for students who are starting to slip behind," said Sarah Gadzik, spokeswoman for the Association of School and College Leaders.
"Having a tutoring company based in schools is not something we have come across before but, assuming that robust quality assurance measures are in place, it could be a cost-effective way for schools to target support at individual students."
But Martin Freedman of the Association of Teachers and Lecturers criticised the arrangement.
"ATL knows that individual families can make a decision to buy private tuition for their children - but for a state-funded school to allow a private firm to use its premises to make money, and for the school to buy in cheap tuition from that firm instead of employing teachers, seems both unfair to those parents who can't afford the extra lessons and an unethical use of public money."
The private tutors will run "learning centres" in five schools in East Anglia, offering customised lessons in English and maths.
Unfair advantage?
Lessons will be taught in groups of up to five pupils, either in breaks during the day, after school, weekends or in school holidays.
In exchange for providing premises, the school receives a reduced rate for lessons bought by the school for its pupils.
But the tutors based in these schools will also teach pupils from other local schools, at the higher cost of £27 per session.
And parents in the five schools who want extra lessons outside those offered through the school, can also pay private rates for private lessons.
The schools are Samuel Ward Academy and Wymondham High School in Norfolk, two schools in the Parkside Federation in Cambridge - Coleridge Community College and Parkside Community College - and the Open Academy in Norwich.
There have been longstanding questions about the impact of private tuition on exam results - and about the advantages gained by pupils whose parents can afford extra lessons.
Much of this extra tuition has been at home - or in after-school catch-up classes - so the extent of this additional coaching has remained uncertain.
A survey carried out for the Sutton Trust education charity two years ago found that about one in five secondary pupils in England was receiving lessons from private tutors.
But this was particularly concentrated in some areas - with the survey claiming that 43% of pupils in London were receiving extra lessons.
Another survey of parents of grammar-school pupils carried out three years ago suggested that almost half had paid for tuition for their children when they were preparing for the 11-plus test.
Simon Barnes, director of TLC Education, said: "Our partnerships mean that we can help improve examination grades and build confidence in students of all ages and abilities."