Careers service at risk of 'destruction' warning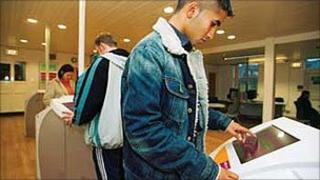 The re-organisation of careers advice services in England could be "potentially damaging to young people's lives", a group of experts has warned.
The National Careers Service Advisory Group is concerned that schools - rather than local authorities - will be expected to provide advice for pupils but without funding being transferred.
It says services are being cut before adequate replacements are created.
But the government said services had often been "poor quality and patchy".
The strongly worded warning about careers services has come from the group of experts which advises the government.
Social mobility
The advisory group includes representatives of careers organisations, head teachers, education experts, business leaders and trade unions.
In a joint statement, members of the group say "they wish their deep concerns about the services for young people to be publicly known".
It warns of "heavy redundancies" for careers staff and voices concern about the support available to young people.
"Stripping out the professional help available to them is not only foolhardy: it is potentially damaging to young people's lives and ultimately to the economy."
The advisory group has raised concerns that the new National Careers Service will not provide face to face advice for young people.
Schools will be responsible for providing such services for their pupils - but the advisers say that even though the responsibility has been transferred, there has been no transfer of funding.
The advisory group argues that £200m in careers funding has been lost.
Brian Lightman, Association of School and College Leaders general secretary and a member of the advisory group, said he was concerned that changes to the careers system would leave young people without the advice they needed.
He questioned whether individual schools would have sufficient funding or information to buy in the type of high-quality careers advice needed by young people.
Mr Lightman said that the quality of careers advice had a particular significance when there were concerns about improving social mobility.
"Careers guidance is of central importance to this government's social mobility strategy," said Mr Lightman.
A spokesman for the Department for Education said: "We make no apologies for giving schools responsibility for providing independent, impartial careers advice.
"They know their students best - so it's right they should decide what provision is right and that they have complete control over their budgets to buy in the face-to-face support that pupils need.
"All young people will have access to high quality support from the new all-ages National Careers Service from next year.
"Local authorities retain their legal duty for supporting teenagers' education or training - backed by the £4.5 billion Early Intervention Grant over the next two years."