Q&A: What if I don't get good GCSE grades?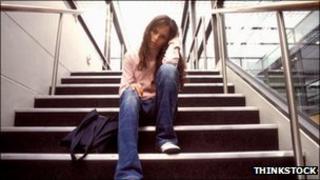 As hundreds of thousands of pupils in England, Wales and Northern Ireland get their GCSE results, many will be celebrating a string of good grades.
But others will be disappointed, having not got the grades they were hoping for.
The BBC News website looks at some of the options for those who have fallen short.
What should I do on GCSE results day?
You may get your results by text, email or in the post, but it's still a good idea to go to your school or college on results day. By doing this, you can get help and advice from your teachers.
What should I do if I don't have the grades I need to do A-levels or vocational courses?
Firstly, don't panic. If you don't get the grades requested by the sixth form or college of your choice, approach them and see if they are prepared to be flexible. It's possible they will still give you a place or they might be prepared to take you on for different courses. Alternatively, approach other schools or colleges - you might find they will accept you.
What about retakes?
You could resit some of your exams. If you were close to the grade you needed, you may be able resit as early as November or January. Maths and English are particularly popular subjects to resit, as Cs in both are considered an important benchmark in terms of basic skills.
For modular GCSEs, you can resit individual units without retaking the whole thing, as long as you resit at least 40% of the qualification. But if you do worse in the resit, you can't use the grades from your first attempt.
If you are resitting several subjects or you need to improve your results significantly, colleges and schools are more likely to advise you to wait until next June. Whether you will be able to start A-level or other courses of study before you have done your resits will depend on your results and what you want to do. Colleges and sixth forms will be able to advise you on this.
Can I challenge my results?
If you feel strongly that your grades are wrong and do not reflect your ability, you can ask for a remark of your papers. Requests for remarking can only be done through your school or college. Make sure someone there is dealing with the matter. There is a fee for this service which is reimbursed only if there is a grade change. The Joint Council for Qualifications has guidelines on the Post-results service available to schools.
Could I study for other qualifications other than A-levels?
You could decide not to go down the route of A-levels and university - academic-based qualifications are not the only route to success. Vocational qualifications include such as BTecs or City and Guilds, which are work-related qualifications in a range of subjects such as information technology, construction, beauty therapy and tourism.
What GCSEs do I need for vocational courses?
Vocational courses can be either level 3 - considered equivalent to A-levels, or level 2, equivalent to GCSEs. Level 3 courses can be a route into higher education.
If you don't have many GCSE grades of C or above, careers advisers are more likely to suggest level 2 courses. Once you have passed a level 2 course it may be possible to move onto a level 3 course.
When considering a course, ask what people who have completed it go on to do - how easy is it for them to find jobs, or move on to further study?
What about an apprenticeship?
Apprenticeships combine work for an employer and a programme of learning which will lead to qualifications. They are available at level 2 or level 3. You get paid a minimum wage of £2.50 per hour, though the average wage is £170 a week. More information is available from the National Apprenticeship Service.
Could I do something else altogether?
You could go straight into paid work, take a year out, volunteer or work for a while. It is possible to return to education - either full-time or part-time - later in life. Talk to careers advisers, teachers and your family and think carefully about what you are doing and why, and what future options it will create or rule out.
Where can I go for more advice?
You can call the national Exam Results Helpline on 0808 100 8000, open from 0900 to 1900 on results day, from 0900 to 1700 on Friday and 0900 to 1200 on Saturday.
The government website Directgov might also help you make decisions. And there are hundreds of job profiles on the government-run Next Step website, with information about how to enter each career.
The government is currently changing its careers advice provision and is phasing out the old Connexions network, but some centres are still operating and can offer face-to-face advice or you can email or telephone a careers adviser.