Sixth-forms and colleges 'cutting support and courses'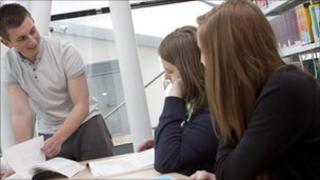 Several sixth-form and college heads have said funding changes are forcing them to cut careers guidance, mentors, sports and even A-level courses.
From September, in England, instead of 114 hours' annual teaching per student of non-assessed "enrichment" subjects being funded, only 30 hours will be.
One union leader said he thought such cuts were happening "across the board".
The government says it is protecting core study programmes and funds are being re-invested in 16-18 education.
The loss of funding for enrichment activities will affect schools and sixth-form colleges, although some of the money - about £150m - will be used to support disadvantaged learners.
To continue offering such extra-curricular activities and support, some institutions are cutting other areas.
Poverty 'challenges'
Angela O'Donoghue, principal of the City of Sunderland College, said a high-achievers' programme which helped disadvantaged young people from across the city to develop their university applications would end.
The college is also cutting tutorial time by about 50%, she said, raising concerns that more students will drop out because of lack of support.
The institution will lose about £2.5m in enrichment funding in 2011-12, although that will be partially offset by nearly £1m in support for disadvantaged learners.
It will no longer be able to offer every student the opportunity to volunteer locally, she said, and sports previously run by paid staff will rely on staff or others working in a voluntary capacity.
She said 80% of the college's students were receiving the recently axed Educational Maintenance Allowance study grant, which means they are from homes with yearly incomes below £21,000.
"A lot haven't got the same support they would have if they came from middle-class homes," she said.
Gateway Sixth Form College in Leicestershire is cutting six AS-level courses, including further maths, geography and history, "in the light of funding cuts".
'Moral responsibility'
Principal Suzanne Overton-Edwards said she was aiming to make 12% savings over two years.
"What we cannot afford to do is to run provision that means we have small classes. It's just not efficient," she said.
She said the college could no longer fund one of three full-time mentors, but was hoping to fill the post with volunteers.
"A lot of our students have very complex lives and they need emotional support," she said.
Staff would also do their best to squeeze in pastoral and academic support, despite a likely drop in tutorial hours, Ms Overton-Edwards added.
"Young people are having a particularly hard time at the moment because of the situation that the country's in," she said.
"We have a moral responsibility to show our students that there is another way - they don't have to riot... we just need to show them it is possible to achieve."
And Mark Bramwell, principal of Totton College, near Southampton, said the enrichment-activities reduction amounted to a loss of 20% of his total budget over the next four years.
Transition funding is limiting budget reductions to 3% this year, and the disadvantage funding will offset half of that for Totton College.
Even so, he said the institution has decided to stop offering A-levels in German and Italian from September, and eight members of staff who have left will not be replaced.
The Duke of Edinburgh Award scheme will no longer be offered, while community sports events in the run-up to the Olympics, and the college's dance company will be scaled back.
Martin Ward, deputy general secretary of the Association for School and College Leaders, described such cuts as "trimming around the edges", but said they were "extremely typical".
"I'm sure it's exactly the sort of thing that's happening across the board," he said.
Students from disadvantaged backgrounds relied much more on schools and colleges for access to arts, sports and guidance on careers and university entry than those from more wealthy households, he said.
"In particular it's important in terms of gaining access to university because it is one of the things that admissions tutors will look at in addition to grades," he said.
Teaching cut
School sixth-forms are also affected, as the government phases out by 2015 the £280 more per student that they receive than sixth-form colleges.
Seven schools in Sheffield have written to parents warning of A-level class-size rises, reduced teaching hours and the possibility that subjects may be dropped or run in collaboration with other schools.
One school, Tapton, is to reduce its five hours of Year 13 teaching per A-level subject - generous by national standards - to four, with "supported self-study" making up the difference.
Sandy Woodcock, finance and facilities manager at Ribston Hall High School in Gloucester, said that from September a small number of A-level courses will be offered jointly with other local sixth-forms.
Sixth-formers will also get less PE than previously, she said.
Ms Woodcock said she feared that schools with fewer than 250 pupils may stop being financially viable.
'Tough decisions'
Sion Humphreys, policy adviser for the National Association of Head Teachers, said the reallocation of enrichment funding would have a "considerable impact".
He said many union members thought the transition funding would stave off "really tough decisions" this year, but these would have to made as budgets dropped further in later years.
The Young People's Learning Agency, which allocates 16-19 education funding, said the money taken from the enrichment budget would be reinvested in other areas of 16-19 education.
These include increasing the number of places, apprenticeships, and bringing in compulsory education to the age of 18.
It says 16-19 funding increased by £109m - 1.5% - from 2010-11 to 2011-12.
This is, however, a cash terms increase, and so is less than inflation.
A DfE spokesman said funding for the sector would "support the highest participation rate ever", while protecting core education programmes - including up to 4.5 A-levels or their equivalent for young people able to undertake them.
It is necessary to move to a fairer and more transparent funding system and institutions should not be funded at different rates, the spokesman said.
"Transitional funding arrangements are in place to help school sixth-forms adapt," the DfE added.
A report from the Public Accounts Committee published on Tuesday urges better accountability for 16-19 education providers, including more clarity on measures the government should take if they do not perform well enough.
It also says cutting funding does not necessarily make schools and colleges work more efficiently, and warns that there are barriers to collaboration - including competition for students.