You asked the expert: A-level results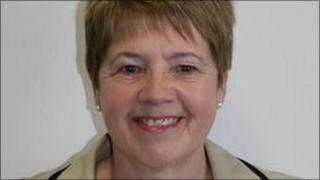 Just missed the A-level grades you need? Done better than expected? Or struggling to navigate the Ucas clearing system? BBC News website readers put their questions to careers expert Carol Jones.
Students across England, Wales and Northern Ireland received their A-level results on Thursday. With record university applications and tuition fees set to nearly triple at many UK institutions from 2012, there is intense competition for university places this year.
Ms Jones has been working in careers guidance for almost 20 years, has run a Connexions careers service and is now a senior member of the careers forum National Connexions Network. She is also chair of governors at Stoke-on-Trent College.
She has answered a selection of your questions. Many thanks for sending them in.
Your questions and answers
My son was unsuccessful in his four applications to do medicine, however he was offered a conditional place at Nottingham doing physics and medical physics (AAB). He has now achieved his predicted 3 A*s (maths, physics & chemistry). Is there anything he can do now to get into medicine? What kind of career prospects might he have with a Masters in physics & medical physics?
Diana Cherukara, Burgess Hill, West Sussex
He would be very, very unlikely to get into medical school at this stage - but worth checking the Ucas/Daily Telegraph lists. If your son really wants to study medicine, he should re-apply next year.
Talk to the medical school admissions tutors - ask what they are looking for. There is also useful information on the BMA website.
He could also do another A level and undertake some activities that could inform a career in medicine.
The Institute of Physics website has an interesting section on careers, and there is NHS information about medical physicists here - and also of course the City of London can be quite keen on taking on qualified physicists.
Good Luck
Carol
If you got grades higher than what your university wanted is there any chance of Cambridge or Bristol re-considering you? My son got three A*'s and an A in AS level. Manchester want an AAB and he has a place. What's your advice?
Helen Smyth, London
My understanding is that Cambridge has no clearing places. Bristol says: "Applicants who have not quite met their grades may like to contact the university on the main number 0117 928 9000 and ask to speak to the relevant department."
If you son is OK with his course and Manchester, I suggest he continues with that application and confirmed offer.
An alternative is to re-apply for next year. Tuition fees will be higher - but the higher threshold payment to start repayments - £21,000 as opposed to £15,000 - more money to repay but less per year.
Carol
I have recently received my A-level results and have had second thoughts about uni and now want to apply to a course. However I did not send anything through Ucas, is there any possibility of me getting a place through clearing or do I have to wait until next year?
James Wilson, Cambridgeshire
Yes - get onto the Ucas Website, talk to a Ucas adviser and enter clearing. Also some Colleges will take a direct application, and sort out the Ucas application once you have agreed to enter. Good Luck.
Carol
As a mature applicant, I've been unlucky in securing a place this year. I'd be really interested to hear your predictions about the future market for universities. What do you see happening to gap years, deferred places, will applications actually be fewer in future due to the fees, or do you anticipate them being higher than ever?
Kathryn Priest, Nottingham
Hi Kathryn
Well Done - and I hope you enjoy your studies. These are very difficult questions, and a recent study by the HE Policy Institute (HEPI) might be helpful.
My own perspective is that we will get a more differentiated higher education sector with probably similar numbers as today, as the numbers of 18-year-olds decrease over the next five years. Deferred places will continue.
In terms of applications - possibly a small dip next year and then a rise to where we presently are.
Carol
I have missed my required level in A-level by a significant margin - ending up with two Ds and an E rather than three Cs. How do I best navigate or widen my desired courses in clearing to find a course that works for me with available spaces?
Andrew Berry, Sandwich, Kent
You don't say what A level subjects you have or what you were hoping to study to degree level. Very general advice therefore is that you need to think carefully about what interests you and look for courses in clearing that appeal. You will need to look at each one to see what the entry requirements are. You might also consider alternatives to university such as studying for a foundation degree, or HND at your local college. You can progress from these onto a top-up to achieve your degree. You might want to consider visiting your local college which will have people on hand who can discuss your options with you and help you to decide what is best.
Carol
I received my marks this morning and I missed out on my first choice university, Bath, by one mark in economics and one mark in geography, meaning I have been accepted by my insurance university, York. I am hoping to get a priority remark of these two papers and I have a number of questions regarding this. If, after my remark, my grades remain the same will I still be guaranteed a place at York? Also, I know that there is a possibility that my grades could not only go up, but drop. Even though the chances of that happening are small considering I am only a mark away from the next grade boundary, will it be worth this small risk?
Michael Pang, Camberley, Surrey
I think you need to speak to Bath to discuss the intended re-mark of your economics and geography A levels, to see if they are prepared to offer you a place on the basis of this. You have been accepted by your insurance (York) on the basis of the grades that you have achieved, and you should discuss with them whether they will keep this place for you whilst you await the results of any re-take and decision by Bath, and also what the situation would be should your grades go down.
Carol
I had a provisional offer on a four-year Business Management course at the University of Chichester which required 260 points. Unfortunately I only received 210 points, although I was only 1 mark off a B Grade in one subject. I still very much want to study Business Management and if possible live at home to reduce costs. Is there anywhere I can study with this many Ucas points locally?
Eward Redman, Southampton
You could phone up local colleges and universities to find out availability and also enter clearing to see what is available. There are local colleges at Chichester, Havant and Portsmouth. You could start on a foundation degree and transfer to an honours degree. Make sure your foundation degree leads to an honours one locally. If you start in 2011 you will continue on the present tuition fees regime, even if you transfer to a university after the foundation degree. Many colleges will accept a direct application and complete the Ucas paperwork later.
Carol
I was predicted AAC in my final exams and got BCC after getting a U in one module and a C in another where I was expecting As. I now can't get into either of my choices. Is it worth retaking a year at college to get my grades higher, pay higher tuition fees and go to the university of my choice?
Robert Galloway, York
First point, all advisers would urge you to go to where you want to study, and to study what you want to study. Applying this principle you are probably best to re-apply with better grades.
However, it might also be worth looking at clearing to see if anything is available just in case there is a course you want to study at the right place.
However, re-applying is probably your best course of action.
Good Luck
Carol
I achieved all As in the actual exams for biology but received an E for the ISA element. Is it possible to re-sit just the ISA and if so can I do this ?
Kyro Baron, Oswaldtwistle
Hello Kyro, well done. I suggest you discuss resits with your teacher or tutor at school or college, they are in the best place to advise you on this. Good Luck.
Carol
My son Matt needed ABB to do biology at Birmingham. He got BBB. However his school are having two of his chemistry papers remarked as priority as he was one mark off an A overall. Birmingham have turned him down, but have asked him to contact them if he gets an A on remark by 31 Aug. Meanwhile, should he look at a clearing place as he is worried that if he leaves it and does not get the A, all the places will be gone?
Alexi Kings, Brackley, Northants
Matt should ring Birmingham and ask them to confirm the status of his offer. He needs to know this before he can decide what to do, as he can't enter clearing if he is holding an offer. Also, you don't say whether Birmingham is Matt's first choice or his insurance offer. If he is still holding an insurance offer, he cannot enter clearing.
Carol
I'm 16 and have completed A-levels with predicted grades of 3As. Because of my age I have deferred entry to 2012 (and in gap year I've set up my own business). Both of my university choices require AAB for entrance, and I'm worried I may not get these grades.
Ammar, Leicester
Hello Amma.
By now you should have your results and have confirmed you can defer entry to 2012. If you have not achieved the grades you need your university may still offer you a place so be sure to check with them. If you decide to re-apply you have the advantage that you have known grades, rather than predicted. Good Luck.
Carol
I currently have three As and a B in geography, history, biology and chemistry, with the B in chemistry. Hence my problem! I applied for medicine this year, and did not gain an offer from any uni. With the intention of trying clearing, and then re-applying, my B is not very helpful. I deserve more than a B, and nothing has seem to gone my way the last few years. I intend to re-sit my chemistry and expect an A, but it will not appear on my Ucas form. I am planning to do at least a month volunteering abroad, and have a very good range of work experience etc. I only really want to do medicine, but is it foolish to pursue it?
Alexander Dean, Oxted
As you are not holding any offers you have two choices, either applying for a course via clearing or re-applying next year with known grades. Medicine is highly competitive and it is extremely unlikely that there will be any places via clearing. Before making any decision to re-apply next year, I would suggest that you contact some university departments of medicine to discuss their requirements and their approach to A-level re-sits, as some are not in favour. You could consider applying either through clearing, or next year, for a subject allied to medicine such as biomedical sciences, from which you may be able to progress to medicine at a later date.
Carol
I got an AAB offer from Nottingham for Architecture, but I got A*BB. Is this the same? I can't get into Ucas to find out if I have a place or not and am now getting rather worked up about it.
Nick Ward, London
By now you should have been able to get onto Track to see whether you have been made an offer. Even if you haven't received an offer, I would suggest ringing Nottingham to see if they are willing to make on offer on the basis of your actual grades.
Carol
What do you do if you get in to your insurance choice but you don't want to study there? Is it possible to still go through clearing?
Kadra Aden, Hillingdon
You are only eligible for clearing if you are not holding offers. If you have met the conditions of your insurance offer you need to check on Ucas Track to confirm that the university has accepted you. If Track has not been updated you can contact the university to confirm. You must then accept your insurance offer or withdraw your application. I suggest you talk to a tutor or teacher at your school or college or a Careers or Connexions Adviser for some individual guidance before making the decision to withdraw. If you have changed your mind about the course, you could discuss your reasons with the university who may be able to offer you an alternative course.
Carol
I didn't really get the grades I think I'm capable of. How can I convince universities that they should still take me?
James Hitchen, Shefford, Bedfordshire
Hello James. I am assuming that you have your results and have confirmed through Track or by contacting your first and second choice universities that they are not making you an offer? If you have not done this I suggest you do so because even if you have not met the terms of their original offer, they may still offer you a place on your original course. Or, they may offer you a place on a different course that seems a better fit with your actual grades. If you are not holding any offers you will automatically go into clearing. When talking to universities it is important to be clear about why you want to take a particular course and any related work experience you may have. You also need to tell them about mitigating circumstances if any, such as illness, that may have affected your results. Good Luck.
Carol