Ucas head: 'No concern' over university clearing rush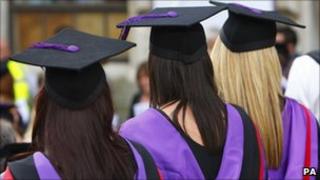 There is a "little more pressure" on UK university places this year but no cause for concern, the head of the admissions body Ucas has said.
With record applications ahead of the 2012 tuition fees rise in England, there are fears of an unprecedented scramble for remaining places.
One union leader has said she feared this year could see the most "frantic" clearing process in living memory.
Nearly 10,000 more students applied this year, but places remain static.
Some 300,000 students are due to receive A-level results on Thursday.
Those who fail to achieve the necessary grades or did not get offered a place, can request one of the remaining places through the system known as clearing.
Last year some 47,000 students gained a place through clearing, but another 210,000 applications did not get places.
Universities in England will be able to raise fees from just over £3,000 to up to £9,000 from September 2012.
'Plenty'
The head of Ucas, Mary Curnock-Cook, told BBC Radio 4's Today programme: "It is a fact that the number of applicants is up and we expect the number of places to stay static, so there is a little bit more pressure in the system.
"But certainly the way the statistics look to us doesn't give us a huge cause for concern."
Ms Curnock-Cook has said there are "plenty" of clearing places available this year, and that she believes the numbers - of both applicants and places - will be similar to last year.
However, some universities have said they expect to have fewer clearing places available than last year.
These include Goldsmiths, which predicts it will have about 100 places this year, down from 200 last year; Wolverhampton University, which offered 800 places last year but believes it will have only 100-150 this year; and the University of West London said it had only a quarter of the number of places it had last year.
According to Ucas, as of 18 July, 673,570 people had applied to university for this autumn, a 1.3% increase on 2010 - which was also a record.
'High stakes'
Some 210,000 prospective students remained unplaced last year.
Last week, Sally Hunt, of the University and College Union, said: "The stakes have never been higher for university applicants.
"With tuition fees set to treble from 2012 demand for places this summer is likely to be unprecedented.
"I fear that clearing will be the most frantic and stressful in living memory, with thousands of young people, encouraged to aspire to university throughout their lives, left disappointed."
Professor David Green, of Worcester University, estimated that about 50,000 students with good enough grades to go to university would be turned away this year.
"They'll have the agonising decision... of whether to make an application again next year to go to university, knowing they're going to be paying two to two and a half times as much as they'd have paid this year."
He called for the government to lift the cap on places and put an end to the practice where universities are fined for taking students above their allocated numbers.
The Department for Business, Innovation and Skills says that going to university is a "competitive process", but points out that 10,000 places added last year are being maintained in 2011.
Government loans paid back after the student graduates and begins earning £21,000 will be available.