University clearing: Record number in race for places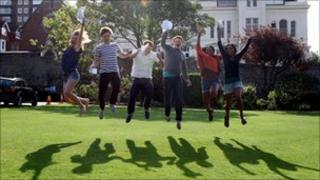 A record number of young people are looking for university places in the UK through the clearing system.
Nearly 192,000 people are eligible for clearing, 7,000 more than this time last year, but there are fewer courses with places available.
Teenagers who take up a place this year will avoid higher fees at England's universities.
Universities minister David Willetts said those who went to university next year would have good financial support.
Clearing is the system which matches students who did not get the grades they needed (and those who turned their offers down or did not get any) to courses with vacancies.
More than 680,000 people applied for about 480,000 courses - although this includes students from outside the UK.
So far, nearly 400,000 applicants have been accepted.
According to the university admissions body Ucas, there are 29,400 courses with places available, compared with 33,000 last year.
Mr Willetts said: "At the moment, I'm told by Ucas there are about 29,500 university courses with vacancies in clearing. Now some of those may be more than one place, so there should be 40,000 or more places in clearing for young people and I very much hope they find an opportunity through that."
Those who did not get a place this year should not panic, he said: "I'd say to them: Look there isn't only one chance in life, you can carry on taking new opportunities and applying again next year.
"The opportunities you may have for perhaps studying part-time with apprenticeships you can keep on aiming to fulfil your dreams.
"If people do go to university in 2012 they will have higher maintenance loans, higher maintenance grants, they will be repaying less per month, so that is an option that is available to people."
Students - as well as their parents and teachers - have complained about problems with the Ucas website which meant a key part of it was out of use for several hours on Thursday morning.
The Track site shows students if they have been given a place by their chosen universities.
It was taken down after a fourfold increase in the number of people visiting it.
Those who find out they have been unsuccessful then begin the search for alternative courses.
One teacher told the BBC that many of his students had been put under a lot of stress because of the technical problems, which had meant that clearing had not begun.
They could not start searching for alternative courses if they did not know whether their first-choice universities had accepted them - and were worried that those who had been able to access the site earlier were "one step ahead".
Sometimes universities accept a student if they narrowly miss out on the grades they need, he said.
"It is very disappointing that the system is not working the way it should," he added.
"It is a very stressful time for university applications."
The chief executive of Ucas, Mary Curnock-Cook apologised for the website problems, saying: "Obviously, for Ucas, any service failure is something that we don't want to happen.
"We are here to try and provide advice and services to our applicants and to our member universities and colleges, so any disruption in service is not how we would wish it to be."
Ucas insisted the formal process of clearing had not been affected.
Alice Brien, from Cambridgeshire, was one of those who struggled to log on to the Track system. She says one of her friends only managed to log on to it on Thursday evening.
Alice eventually got through to her chosen university directly, only to find that she had not got a place.
She later found she had not got a place through clearing either, but decided to take a year out, improve her grades and apply again next year despite the fee-rise.
"I had said before I would not go if I could not go this year because of the money, but I have changed my mind," she said.
"Rather than take any course now, I would rather wait, get my grades up and look for other opportunities this year."
Fee rise
From next year, universities in England will be charging tuition fees of up to three times the present level of just over £3,000 a year.
Welsh universities are also raising their fees to as much as £9,000, although Welsh students will have the increase subsidised and will pay little more than they do now, wherever they study in the UK.
Scottish students studying in Scotland pay no fees, but Scottish universities plan to charge up to £9,000 a year for students from other parts of the UK from 2012.
However, students studying there - and in Wales - from areas of the EU outside of the UK will be treated the same as "local" students and will not face the higher fees. This is because of European legislation.
Northern Ireland's ministers have said there will be no major rise in fees in its universities in 2012.