Childcare costs 'pricing parents out of work'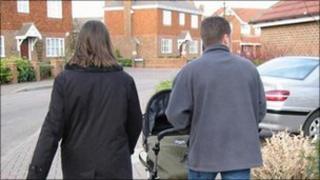 The expense of childcare could make it more cost-effective for some parents to give up work and stay at home, says a survey of family finances.
The report from insurer Aviva presents a picture of fragile family budgets, with rising costs and falling savings.
It says parents with part-time jobs are weighing up the value of working.
"It's quite possible we will see more and more couples relying on one salary while the other person looks after the children," said an Aviva spokeswoman.
The study, based on 6,000 families, says that 32,000 women have left the workforce since last year after their income was "eroded by the associated costs of working".
The Family Finance Report shows that many families face a tough financial balancing act - with everyday costs such as fuel, lighting, heating and food rising while incomes are falling.
When the cost of childcare is added to going-to-work expenses, such as transport, it says that many part-time workers would be better off if they did not go to work.
"The average woman with two children (one year and seven years old) would be out of pocket by £98 per month if she worked part time, and better off by just £120 per month if she worked full time," says the report.
The report says that typical full-time childcare costs £385 per month.
'Generous'
Families also face higher costs for child-related expenses such as school trips, clothes and sporting activities - calculated as £111 per month, excluding childcare. The report says these costs have risen by 6.9% over the past year.
This report says family incomes have fallen by 2% between May and August this year - suggesting that this reflects a decline in women's earnings.
If families become dependent on a single income, the report suggests that there will be only limited savings to fall back on - with the typical level of family savings falling below £1,000.
On average, families are spending about a tenth of their income on paying off unsecured debts such as credit cards. The highest level of such debt is among couples with two or more children.
"Faced with rising costs and largely static salaries, UK families are more worried than ever about their finances," said Aviva's head of protection, Louise Colley.
A Department for Education spokesman set out the measures being taken to support families with childcare.
"We are providing financial support to families to help them return to and remain in work. We've extended free early education to 15 hours a week for every single three- and four-year-old and are giving it to the poorest two-year-olds for the first time. And we're targeting Sure Start much better at the most disadvantaged families which need the most support.
"Government support for families through Working Tax Credits remains generous and will continue to make childcare more affordable for working parents. We're bringing in the Universal Credit which will get people off benefits by making work pay and help lift 350,000 children out of poverty."