Teachers urged to change pupils' assessment scores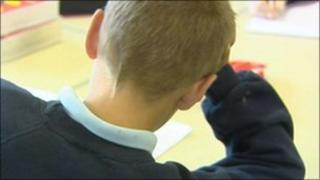 Some teachers feel pressurised into altering pupils' marks to imply they are making good progress in class, research suggests.
Three separate studies suggest teachers are changing assessments after pressure from senior school staff worried about making the school look good.
The government said it trusted schools to make correct judgements when grading pupils.
The small-scale studies look at in-house use of assessment in schools.
And all three, being presented to the British Educational Research Association on Wednesday, suggest that some teachers feel pressure from school management to show that their pupils are steadily hitting targets.
Teachers typically have to provide information at least once a term on which level of the national curriculum a child has reached as they move through the school.
This information is passed on to the child's parents, but is also used by both the school's senior management and council officials to check that pupils are making good progress with their learning.
Ofsted inspectors also look at the information when compiling reports.
The author of one of the studies, Professor Martin Fautley of Birmingham City University, said assessment was being used for an entirely different purpose than was intended.
"Assessment has become a measure of school effectiveness rather than simply a measure of how pupils are performing.
"Management are telling teachers that pupils should be achieving at a certain level, and some teachers are then feeling forced into saying that they have achieved it, whether or not this is appropriate."
This was to keep bodies like Ofsted "off their backs", he said.
His study looked at 57 music teachers and suggested that they were being required by their line managers to demonstrate that their pupils were making the progress expected of them.
'Marks adjusted'
Although he acknowledged the survey was a small one, he said: "The things that these teachers say chime with what teachers telling me when I go into schools on an almost daily basis."
One respondent said: "I thought I was free to use my professional judgement but at the end of the Key Stage 1 was told to change the levels to meet the percentage target."
Another said: "We got told to increase them. This is directed by the head teacher - but nothing is ever in writing."
The second study by Birendra Singh of the Institute of Education, London, found evidence of two schools making up assessment results for Key Stage 3 science so that targets were hit.
One teacher said: "The department will report that the targets have been met. In order to be able to do this the department has discounted the questions which the pupils failed to do and adjusted the marks accordingly.
"In other words, made the marks up in line with what was expected."
'Too high'
And a third study, by Alice Bradbury of Roehampton University, suggested staff in some schools were changing assessments of pupils' ability when they entered school.
Teachers appear to have felt pressurised to change results to meet the progress expected of their inner-city schools.
And if a lower baseline was set it would appear that the pupils had made greater progress than was really the case.
One of the teachers said he was told, or felt obliged, to lower children's marks so that the overall scores were not too close to the government's national benchmark.
A Department for Education spokesman said the surveys were small and sweeping generalisations should not be drawn.
"We trust schools to exercise their professional judgement and common sense in assessing 11- to 14-year-olds' progress. Parents rightly expect schools to give them accurate information about their children's work.
"We're clear that schools should make decisions in young people's best interests - that's why we are overhauling the GCSE league table system from 2014 to take away perverse incentives to enter pupils for qualifications which score highly but are not valued by employers, colleges or universities."