Science trips: Too many pupils missing out, say MPs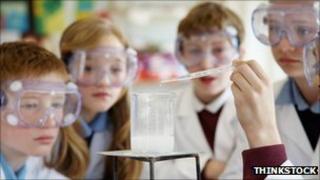 Teachers in England may be using health and safety concerns as an excuse for not organising practical experiments and trips, a committee of MPs warns.
A report by the Commons science and technology committee says fear of risks was a "misconceived" perception.
The report says practical science lessons and field trips range from "excellent to dull or non-existent".
It says these are "essential contributors" to science education and too many pupils are missing out.
The committee's inquiry was set up to examine fears that health and safety rules were hampering practical work and lessons outside the classroom.
But it concludes: "On health and safety, we found no credible evidence to support its oft-cited explanation for decline of practicals and work outside the classroom.
"While 'health and safety' may be used as a convenient excuse for avoiding practicals and work outside the classroom, we consider that there are more fundamental reasons why many students are receiving poor practical science experiences during their school education."
The MPs' report says there is "no convincing evidence" that health and safety legislation itself prevents science practicals or field trips.
It adds: "It appears that teachers may cite health and safety when they are unsure of their ability to carry out a field trip or believe that the volume and nature of paperwork will outweigh any benefits of taking on the trip."
The report calls on Ofsted to direct exam boards to make field work part of science courses, so that pupils collect data outside the classroom and prove a level of competence in analysing it.
It adds that there should also be exams to test pupils' laboratory skills and their understanding of the experimental process, to ensure the best possible use of science facilities.
The committee recommends the government sets up a central facility giving details and guidance on standard experiments.
Up-to-date knowledge
The report says more must be done to encourage schools to make sure their science teachers' knowledge is up to date.
It says: "The government should require that, in order to advance over pay thresholds, a science teacher should demonstrate he or she has maintained the practical classroom skills, fieldwork and associated risk assessment skills necessary to be a good science teacher."
It also suggests trainee teachers should be expected to prepare and lead at least one fieldwork session and to take part in a field trip before acquiring qualified teacher status.
The MPs also say league tables should reflect how well schools are doing in science, to try and improve the importance of science in parents' eyes.
"It is English and maths success that sell a school to parents," the report says.
"If more students are going to study science and the facilities that schools offer to those studying science are to improve, the emphasis needs to change."
And schools need good science laboratories and technicians, it adds.
'Worrying'
Committee chairman Andrew Miller said: "If the UK is to be confident of producing the next generation of scientists, then schools - encouraged by the government - must overcome the perceived and real barriers to providing high quality practicals, field work and field trips."
The Association for Science Education said it had recommended to the committee that all trainee teachers prepared and led a fieldwork session and took part in a trip.
Chief executive Annette Smith said: "This experience can have a number of positive learning outcomes for the trainee, including aspects of behaviour management and, very importantly, the opportunity to relate classroom science to the real world.
"This can be seriously lacking in classroom based practical science."
She added: "Another vital aspect of field trip planning for trainee teachers is the process of assessing risk.
"Learning how to plan for the management of risk without losing the excitement and immediacy of science outdoors is very important for trainees."