Pupils more confident in federated schools, says Ofsted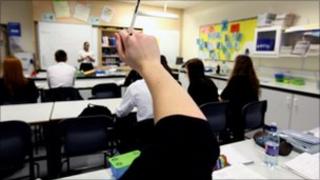 Schools in England which join together in federations improve teaching as well as pupils' happiness, a watchdog says.
Federations link two or three schools - a stronger and weaker schools, schools facing closure or primaries and a secondary - sharing leadership with the aim of improving all involved.
Ofsted visited 29 federations and said pupil achievement had improved.
And it found "no evidence" to support parents' fears that education in stronger schools would suffer.
It said pupils were more confident because of the greater opportunities open to them and a larger circle of friends, and highlighted improved achievement for those with special educational needs and disabilities.
Inspectors said that, as well as maintaining good quality teaching and learning, federations shared a greater pool of resources and expertise that could be used more flexibly across schools.
Where schools had formed "cross-phase" federations, notably those between primary and secondary schools and infant and junior schools, federation had resulted in stronger academic transition arrangements, Ofsted said.
The watchdog said there were about 600 known schools where leadership was shared through federation.
Leaders 'positive'
As well as visiting 61 schools in 29 federations, inspectors examined questionnaires filled in by the leaders of 111 federations.
The report - Leadership of More Than One School: An Evaluation of the Impact of Federated Schools - found the leaders and governors interviewed were positive about the benefits of federation.
They saw professional development, staff retention, greater availability of resources and the ability to attract high-quality leaders as the key reasons why federation had improved educational provision.
School leaders gave three main reasons for forming federations - some had been approached by a local authority to help a school that was struggling.
Others were small schools in danger of closure or unable to recruit high quality staff.
Another group were seeking to strengthen the overall education of pupils in their community.
Miriam Rosen, Ofsted chief inspector, said: "School federations clearly play an important role in our education sector, with effective leadership being the single most critical feature in helping generate and sustain improvement.
"The characteristics of effective leadership of federations are no different from those expected in any school.
"But what we found noteworthy was the success leaders had when transferring these skills to federations which are larger and more complex to run than single schools."
Schools Minister Nick Gibb said: "This report shows that federations can help improve schools. They raise academic standards, strengthen teaching and widen opportunities and extra-curricula activities for pupils.
"As we seek to ensure that every school is a good school, the government is looking at federations as a way to help turn around underperforming schools."