Private schools urged to sponsor struggling primaries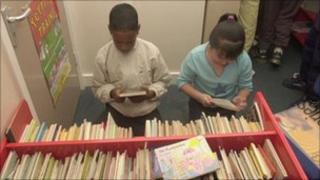 A body representing some of England's leading independent schools is urging its members to consider sponsoring struggling primary schools.
The Headmasters' and Headmistresses' Conference wrote to all its member heads after a meeting with David Cameron.
The HMC argues primary schools offer a good chance to tackle the achievement gap between rich and poor pupils.
This tends to get wider as children progress through their school years.
General Secretary of the HMC, which represents 252 schools in the UK and Northern Ireland, William Richardson said: "A number of HMC schools are already partnered with academies and the recent meeting with the prime minister and Michael Gove explored the government's aspiration that this work could be extended.
"One response to this which was already in train is involving HMC in co-ordinating interest among members who might wish to sponsor a primary academy.
"We will be undertaking that work during the coming year in order to support these schools for whom this form of working with academies meets their needs pretty well."
'Big difference'
Private schools have long been encouraged to work with struggling state schools, and some have gone on to set up schools in the state sector.
But working in the primary schools sector in this way has not been so common.
Chair of the HMC's new Primary School Academy Group David Levin told the Times Educational Supplement that he thought working with struggling primary schools was one of the best ways to promote social mobility.
"The educational gap between the rich and poor widens particularly between the ages of four and 10.
"In our view, primary schools offer the means to make a really big difference on social mobility and close that gap.
"The gap isn't as great in primary schools, in-roads are much simpler and easier to achieve. Things like the love of learning, interest in reading, the whole area of nurture and competitive sport can be instilled more easily at that age."
Earlier this month the BBC learned that Mr Cameron had held a summit with private school heads at Downing Street and that he wanted to see them help raise results by having more involvement in the state sector.
The Department for Education said: "The government is keen to see more partnerships between maintained and independent schools.
"Ministers are very aware of the benefits for both pupils and staff that can arise from such arrangements, and are determined to narrow the gap between the poorest and richest children."