Call to rank A-level students by school type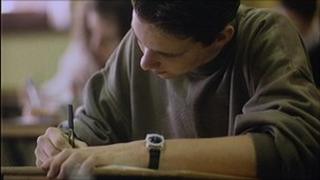 A-level pupils should be ranked by the schools they attend as well as the grades they get, an exam board says.
Under the proposal, a pupil from a weak school who scored lower than a candidate from a good school would get extra credit for university points.
The Assessment and Qualifications Alliance says this would allow students from diverse socio-economic backgrounds to compete fairly for degree places.
AQA is presenting the concept at fringe events at the party conferences.
The exam board suggests a measure of education context - based on, for example, deprivation indices or free school meals data - could be used to rank order university applicants.
Report author Dr Neil Stringer uses the example of a medical school at the University of London that accepts lower A-level grades from pupils from poorer schools.
St George's offers results of "BBC" rather than "AAB" to students who perform 60% better than the average for their school.
The scheme is open to students from schools whose A-level average is "CDD" or below.
'Able learners'
Dr Stringer said: "St George's reports that students from poorly performing schools who are accepted into medical school with lower grades do just as well as their peers with higher grades.
"This strongly suggests that students admitted through the adjusted-criteria scheme learned enough at A-level and are able enough learners to compete successfully with students who achieved higher A-level grades under more favourable circumstances."
The report concludes: "The proposed system would not encourage or require universities to relinquish control of their admissions systems.
"It is not an issue of allocating students to universities on the basis of their respective rankings: admissions tutors would remain free to make decisions.
"What it would do is provide every Ucas applicant with a ranking that could form the basis of the initial sift of applications, whatever universities they applied to.
"It would provide a single piece of information that takes into account both academic achievement and education context."
Confusion
But Schools Minister Nick Gibb said the idea would cause confusion.
He said: "This proposal risks confusing employers, teachers and pupils by giving different values to the same A-levels and would undermine the integrity of public exams.
"All pupils who work hard and achieve high standards deserve to have their qualifications recognised.
The key to widening access to university is by ensuring more young people are achieving good grades in the right subjects - regardless of background."
And rival exam board OCR said the proposal was mistaken.
Chief executive Mark Dawe said: "AQA's proposal is a bad one. We should concentrate on getting the ranking by achievement correct and let others worry about potential or ability.
"This proposal contravenes the moral and technical basis of independent measurement.
"Furthermore, there are so many ways in which you could rank students that arbitrarily picking out one method alone could not possibly deal with the challenge."