Pupils get model behaviour lessons from the catwalk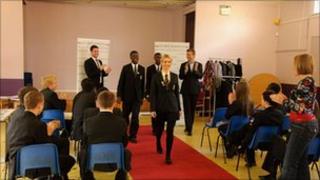 School pupils are getting lessons from the catwalk in a bid to banish slovenly behaviour and build up self-esteem.
Male models Matt Bates and Sean Hopwood are offering GCSE students tips on how to present themselves in interviews and dress well on a budget.
They say many of the pupils they meet do not even know how to greet people or shake hands.
Employers have long complained that young people leave schools without the soft skills they need for work.
Eye contact
Sean says: "Some of the kids that we see, they really do not know how to present themselves. They don't even know that they should look someone in the eye.
"Something that seems so basic to you and I - these are the social skills that they need to get on."
The models, who have strutted their stuff for such clothing brands as Armani, Henry Lloyd and Hugo Boss, say students of this age really respond to their unique approach.
Sean says: "They ask us if we've met any celebrities and where we have been. We get right on their level. We make it fun but there is a serious message."
Joe Coluccio, a teacher at a Corpus Christi Catholic College in Leeds, which uses the Model Education sessions to boost pupils' confidence, says there are lots of gifted and talented pupils out there who simply do not know how to present themselves.
"If you go into a class and say, 'We're going to do self-esteem today', the pupils are just going to be really bored.
"But if you say we've got these two models from Model Education coming in then they will immediately perk up and we will get the message across."
The sessions, which schools tend to get funded through local business contacts, start with 26-year-old model Sean walking along a red carpet into a mock interview situation.
He does this in three different styles, shy, cocky and confident, and asks the pupils to say which they think is most suitable for an interview.
Then after some lessons in body language, creating a good impression and on how best to prepare yourself for a pressured situation such as an interview, they split off into groups and have some mock interviews themselves.
"It's really useful for this age group," says Sean, "because they will either be going on to interviews at college or when they leave school and go in to jobs themselves."