City pupils taught in ghettos, head teacher warns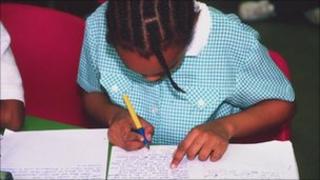 Pupils are being "taught in ghettos" as inner-city schools are increasingly divided along racial lines, a leading head teacher has warned.
David Levin, head of the fee-paying City of London School, said parts of London resembled apartheid-era South Africa where he grew up.
The capital was "sleepwalking" towards apartheid, he warned.
But Tower Hamlets Borough Council in the ethnically-diverse east of London rejected his comments as alarmist.
Speaking at the Headmasters' and Headmistresses' Conference (HMC) annual meeting in St Andrews, Mr Levin said: "I grew up in South Africa, where apartheid was imposed by the government. People had to live in different areas.
"Increasingly, I am alarmed at the way London is divided into ghettos. We've become a silo society."
He cited Stepney Green Maths and Computing and Science College, a boys' school in Tower Hamlets in east London, where 97% of pupils are from a Bangladeshi background.
"A number of those children, through no fault of their own, haven't been outside their council estate, let alone outside Tower Hamlets.
"This cannot be a good thing," he said.
Mr Levin said this could have a lasting effect on pupils' ability to mix.
"It means that they are not mixing with other people from different faiths, different races and different socio-economic backgrounds.
"One of the things I have certainly learned particularly pre, and post-apartheid is that your imagination is much stronger than the reality.
"You may not like someone, but if you know them you do not fear them and I think schools should be an area in which in a rational protected way, children from a different background, faith, racial grouping should come together in a common purpose of education and get to know each other.
"I think that's very important."
Polarisation
Segregation at school level was cited as one of the factors behind the Oldham riots in 2001.
A report published by Bristol University in May found schools in the town are still largely polarised along racial lines.
The research found more than 80% of primary school pupils of Pakistani or Bangladeshi origin attended schools, in 2009, in which no more than 20% of the pupils were white.
While more than 70% of white pupils were in "majority white" schools, in which at least 80% of pupils were white British.
Mr Levin told the HMC conference that segregation was one of the reasons why private schools should work with other schools.
According to the Stepney Green College's website, 56% of pupils got five A*-C GCSEs , including English and maths, in 2010. And 82% gained at least five Cs in any subjects.
This is above the national average for both measures.
The school was rated "outstanding" after its latest inspection by Ofsted.
Mr Levin said: "The boys at the school are very bright and motivated."
A spokesman for Tower Hamlets Borough Council said: "It would be alarmist to suggest that there is 'apartheid' in east London just because children and young people are receiving their education among other pupils of the same ethnicity.
"We do not judge our pupils' success on the basis of whether they attend schools with pupils who happen to be of the same ethnicity, but on the quality of education they receive and their progression in educational attainment, with internationalism promoted as a core principle in the learning environment.
"The east London community is very proud of the fact that it has many people from a diverse range of backgrounds living, working and learning together, a community that celebrates and champions its diversity as not only an inspiration but a source of strength and cohesion."