New Ofsted chief takes aim at incapable teachers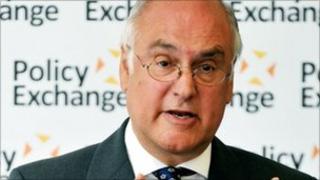 The newly-appointed chief inspector of schools hopes to improve standards by cracking down on "ineffective" teachers.
Sir Michael Wilshaw said head teachers must challenge teachers who were not up to standard, particularly ones who were "coasting and letting children down".
He said "very robust" performance management systems were needed.
He has been described as traditional in his approach to improving standards at the London school of which he was head.
From January, he will head Ofsted and its new streamlined inspection framework, which will emphasise four key areas - pupil achievement, teaching standards, behaviour and school leadership.
Speaking on BBC Radio 4's Today programme, he described the inspection framework as "the right one", saying it was important to recognise that within any organisation "there will be people who are not particularly capable".
He said that while it was easy to identify an incompetent teacher, for example by consistently poor behaviour or teaching in the classroom, it was more tricky to detect a "coasting teacher".
'Challenge people'
He said it was harder because "it's not immediately obvious that that person is teaching ineffectively".
"What we've got to do in schools is ensure that there are strong performance management systems in schools, very robust ones, to identify not just the hopelessly ineffective and incompetent teacher, but also those that are coasting and letting children down."
Highlighting the role head teachers must play, he said: "The difference between a good head - and I have said this many times - is that ability to challenge systems and challenge people to do better. That's sometimes a very tough thing to do, and that is why sometimes heads shy away from that very difficult issue."
The last report from the chief inspector showed that 50% of lessons observed were graded good or above - "that means that 50% were less good," Sir Michael said.
"That must mean that there are people who are teaching ineffectively in our schools, and we've got to do something about it."
Sir Michael is credited with turning Mossbourne Academy, in Hackney Downs, a deprived part of east London, into one of England's best performing schools.
Traditional v common sense
Defending his approach of strict discipline and a traditional curriculum, he said: "If traditional means making sure children behave themselves, if traditional means ensuring that they give respect to each other and to staff, if traditional means having high expectations of young people, then I'm guilty of being accused of traditional.
"For me it means common sense."
He has been a teacher for 42 years, including 25 years as a head teacher.
Under his leadership, Mossbourne Academy achieved 82% of pupils getting five good GCSEs including English and maths this year, an "outstanding" rating from Ofsted in two consecutive inspections, and eight pupils were offered places at Oxbridge this year.
He said: "If all schools had high expectations and rigour, and demanded a lot from children, then they can be like Mossbourne."