Watchdog warns of school deficits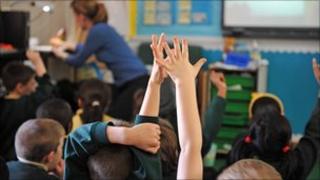 Budget pressures could push more schools in England into deficit and damage their academic results, warns a report from the National Audit Office.
Margaret Hodge, chairwoman of the Commons Public Accounts Committee, said it was "extremely worrying" that one in five secondary schools were in deficit.
The report also found that 40% of local authorities lacked the resources to monitor schools' financial management.
The Department for Education said it was increasing "front-line investment".
The report from the National Audit Office (NAO) warns of a lack of effective support for schools trying to make budget savings - with the risk that they might make cuts that would damage academic standards.
"Financial difficulties could affect academic performance as schools struggle to contain costs, and then make inappropriate cost reductions that adversely impact on the quality of provision," says the report.
Schools are expected to reduce "back-office" spending by £1bn by 2014-15, says the report, within an overall budget that will rise by 0.1%.
But the spending watchdog says local authorities are reducing their own support for the financial monitoring of schools - raising fears of a lack of effective oversight.
"Financial pressures are growing on local authority maintained schools and the need to reduce costs is becoming greater. At the same time, the capacity of local authorities to monitor and support financial management in schools is itself under pressure," said Amyas Morse, head of the National Audit Office.
The report said that at the end of 2009-10 there were already 18% of secondary schools and 7% of primary schools in deficit.
And the watchdog notes that "weak financial management and weak academic performance often go hand in hand".
"We are concerned that scrutiny of school finances is being watered down," said Ms Hodge.
But a spokesman for the Department for Education said that front-line investment for schools would increase by £3.6bn over the next four years - and that local authorities had a "clear responsibility" to oversee schools' financial management.
"They should put in sufficient resources to ensure they can carry out this responsibility properly. With the right support, schools should be able to manage their finances," said the DfE spokesman.