Thousands of pupils persistently truant, figures show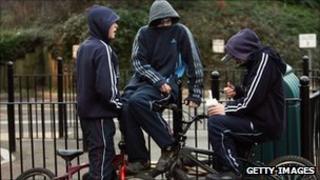 More than 450,000 pupils in England (7%) persistently missed school in the autumn term of 2010 and the spring term of 2011, government data shows.
Signalling a tough stance on truancy, ministers now classify "persistent absentees" as those missing 15% of lessons, not 20% as previously marked.
The Department for Education said this was the equivalent of a child missing a month's worth of lessons in a year.
Schools Minister Nick Gibb said the figures were "worrying".
The figures show the 450,330 persistent absentees for the period accounted for 56% of all unauthorised absenteeism.
The statistics, published by the Department for Education, also show more than a million (1,025,385) secondary and primary pupils (16% of the total school population) missed half a day or more of school per week (10% of classes).
The most common reason for absence was illness, accounting for 61% of half days missed, the figures show.
Medical and dental appointments accounted for just over 5.5% of absences.
Agreed family holidays accounted for 6% of absences, while unapproved holidays accounted for more than 2.5%.
'Worrying'
Schools Minister Nick Gibb said the figures revealed the worrying extent of absenteeism in our schools.
"It is unacceptable that more than 450,000 pupils are missing the equivalent of a month of lessons a year.
"Children who are absent for substantial parts of their education fall behind and struggle to catch up.
"By lowering the threshold, we are encouraging schools to crack down on absence before the problem escalates."
The government's adviser on behaviour, London head teacher Charlie Taylor, said too many pupils were missing too many lessons.
"I know, in my experience as a head teacher, that the earlier poor patterns of attendance are addressed by schools, the less likely it is that it will become a persistent issue.
"This is why good primary schools take a zero tolerance approach to poor attendance from the very start of school life."