Rise in pupils getting five good GCSEs including maths and English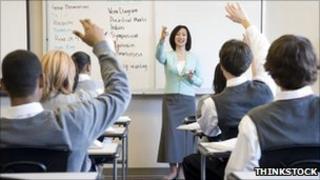 Just under six in 10 teenagers (58.3%) in England achieved five good GCSEs including maths and English in their exams this year - a rise on last year.
The proportion of 15 and 16-year-olds reaching this standard rose by nearly five percentage points.
And A-Level statistics show around one in eight teenagers (12.8%) scored three or more A* or A grades.
Boys were slightly more likely than girls to get three or more A grades or above at A-Level.
While boys outperformed girls in top grades, more girls than boys achieved at least two passes at A-Level (93% compared with 92.4%).
The statistics are based on exams taken this year.
The proportion of teenagers getting five good GCSEs including maths and English has been increasing steadily in recent years.
In 2004-05, just under 45% made that grade.
But the government says one of the reasons behind the bigger increase this year is that it is now including in its statistics an alternative maths exam taken by some schools - an IGCSE in maths.
Many independent schools take the qualification.
The government uses the standard of five good GCSEs including maths and English as its core measure of how well schools are doing.
Today's figures from the Department for Education show a 4.8 percentage point increase in 15 and 16-year-olds getting five A* to C grades including maths and English: 58.3% got this in 2010-11, compared with 53.5% in 2009-10.
If you take the independent schools out of the picture, the increase is 2.6%, the government says.
English Baccalaureate
In contrast to GCSEs, A-Level results show a slight fall - with 92.7% getting at least two A-Level passes, compared with 94.8% the previous year.
The coalition has added a new measure of schools called the English Baccalaureate.
This is a measure of how many children get a good GCSE (A* to C grade) in English, maths, two science qualifications, a modern foreign language or classical language and either history or geography.
The statistics released this morning show a similar picture to last year on this - just about one in eight teenagers achieved the Baccalaureate. A total of 16.5% of all pupils achieved what is known as the Ebacc, compared with 15.6% last year.
According to the statistics a total of 22.7% were entered for all the subject areas of the Baccalaureate - slightly more than last year (22%).
School league tables for England will be published later this year.
Academies
The government says academies have shown a bigger improvement than other state-funded schools in terms of GCSE performance.
The expansion of the academies programme is a key feature of its schools policy.
It highlighted the results of the 166 sponsored academies which have results for both this year and last year. These were set up under Labour, mainly in deprived areas, to improve standards and are state-funded schools which stand outside of local authority control.
Among these academies, the proportion of pupils achieving five or more good GCSEs including maths and English rose 5.3 percentage points, from 40.6% to 45.9%.
In state-funded schools as a whole, the rise was 2.6 percentage points, up from 55.2% to 57.8%.
Schools Minister Nick Gibb said: "The government believes that teachers and head teachers know best how to run schools. Academy status gives professionals the freedom they need to do their job and today's figures show that that autonomy works.
"Academies continue to outperform the national average, completely transforming previously under-performing schools serving some of the most deprived communities."
The coalition government has opened 116 more sponsored academies and plans to open more.
These are on top of existing schools which are changing to become academies.
School league tables for England will be published later this year.