Tuition fees at up to 28 universities could be lowered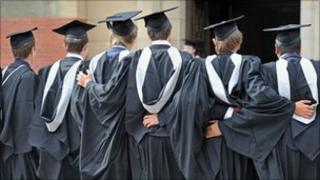 As many as 28 universities in England are considering lowering the fees they have said they will charge from next year.
The news comes as hundreds of thousands of teenagers are preparing to apply for university.
Universities set their fee and bursary levels in April but in July the government announced further changes.
Fees will rise up to a limit of £9,000 next year but the changes mean some universities might want to charge less.
In England, fees will rise up to a maximum of £9,000. Fees in Wales and Scotland are also rising up to that maximum level - but only for students from other parts of the UK.
Scottish students studying in Scotland will pay no fees and Welsh students will be subsidised wherever they study in the UK.
The Office for Fair Access (Offa) said 28 universities had expressed an interest in cutting their average fee to £7,500 or less.
Eight have already taken steps to do so.
There are about 130 universities and other higher education institutions in England.
It means that young people hoping to apply for university next year cannot yet be certain of the fee levels of the institutions they are considering applying to.
Most will want to apply before a deadline in mid-January. Those applying to Oxford and Cambridge and for medicine and veterinary science have already applied.
Offa is writing to all universities giving them the timetable for revising their fees.
Universities have until 4 November to submit their new plans, which will be confirmed by the end of November.
Policy changes
In order to be able to raise their fees above £6,000, universities in England have to satisfy Offa that they are working to recruit students from disadvantaged homes.
In April, they had to tell Offa the fees they planned to charge and the scale and number of bursaries they would offer.
But in July, the government's White Paper on higher education set out policy changes.
One, which might drive some universities to charge less for courses, was that 20,000 student places were being taken back from across the university system.
The government said universities charging fees of less than £7,500 would then be able to bid for those places.
In September, Offa announced that 12 universities were considering reducing their fees.
The government wants more universities to lower their fees. It based its calculations on the future funding of higher education on the idea that most universities would charge about £7,500, with the maximum only being charged in "exceptional circumstances".
But the average fee - including fee waivers and bursaries offered to poorer students - was more than £8,000 - with many universities opting to charge the maximum fee for at least some of their courses
Now some fees could fall. Offa says universities must give applicants who have applied for courses with a Ucas deadline of 15 October the option of staying with the package on offer when they applied or switching to any revised package.
For all other applicants, universities must contact them directly and notify them of any changes to their package, so that they can change their university choices, if they wish before the Ucas deadline of 15 January.
Toni Pearce, vice president of the National Union of Students, said: "The government's incoherent changes to higher education funding continue to wreak havoc and chaos on students and universities as Ministers realise that they failed to do their sums properly.
"Tens of thousands of applicants now face an anxious wait at an already stressful time.
"Students looking to assess and compare what support will be available to them will be facing weeks of uncertainty and many will find that vital bursaries have been replaced with tokenistic fee waivers."