Pupils' fears of intimidation 'worse' in England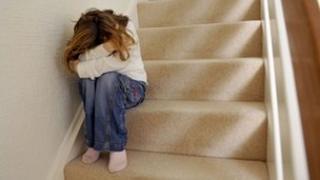 Children in England are more fearful of attacks and intimidation on their way to and from school than pupils in other European countries, a study suggests.
According to the study of 4,000 pupils in eight countries, 31% of those questioned in England worry about being harmed on their journeys to school.
This compares with 19% across the seven other European countries studied.
Greater awareness of bullying and crime in England could be fuelling these fears, the researchers suggest.
In this first cross-European study of the experiences of young people during their journeys to and from school, concerns of young people in England seem to outweigh the real threat that they face from bullying and other anti-social behaviour.
The research said that of the 1,700 children from the East of England questioned in the study, 80% had never experienced any victimisation of any sort.
Just 17% had experienced any sort of anti-social behaviour. This compares to the 31% of those who said they were sometimes fearful of it.
Only in Hungary did a greater proportion of pupils say they feared anti-social behaviour.
The report suggested the primary threat to personal safety came from other pupils, generally from the same school.
Report author, and reader in social policy at Anglia Ruskin University, Stephen Moore said: "Children in England seem to be more worried than other countries.
"Perhaps that is because there's a greater awareness, and while I am not wanting to criticise anti-bullying campaigns, the reality is there's a greater degree of worry than is warranted by reality."
'Riskier'
The research focused on crime, bullying and anti-social behaviour victimisation experiences during the period of time before and after school, concentrating on school journeys.
It also argued that while there have been numerous initiatives on preventing youth victimisation within schools, there had been much less attention paid to harmful behaviour in public places before and after school.
The researchers added that this could mean these periods of time may be far riskier than the rest of the day, and called for strategies to prevent victimisation during these specific periods of time.
However, the study found that pupils in England were the most likely, out of the countries studied, to report incidents.
it also found that most young people turned to their friends rather than parents or teachers for support when they were bullied.
Mr Moore said: "The research found that this level of support was not fully acknowledged in current bullying strategies, nor was the sophistication of young people in dealing with bullying incidents."
The Anti-Bullying Alliance said it was gald the report had highlighted that bullying does not just stop at the school gates.
A spokesman added: "By raising awareness of the issues support children to understand that any form of bullying is unacceptable and they should turn for help to their parents and carers, other family members, friends, teachers and youth workers."