WWI mystery spycatcher family discovered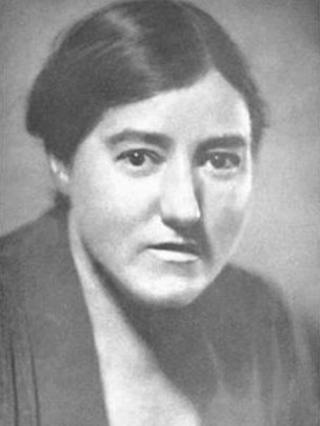 More has been discovered about the life and curious times of a World War I "unknown heroine", whose spycatching exploits were found in the archives of the Royal Society of Chemistry.
In 1915, Mabel Elliott helped to uncover a German spy plot - but little was known about her background.
An appeal for more information has found her surviving family - and a possible link to a German connection.
But it also raises more questions about her role in this real-life spy story.
The Royal Society of Chemistry stumbled across the story of Mabel Elliott - one of its former employees - in its archive.
Invisible ink
This unsung heroine, who spoke German and Dutch, had worked as a censor during the First World War and in 1915 had found a letter being sent to Holland with secret messages in invisible ink.
The discovery of these messages, written with lemon juice and formalin, detailing military movements, prompted the arrest of a suspected German spy, Anton Kuepferle.
But before his trial had been concluded, the accused spy was found hanged in his cell, after apparently using a silk scarf to kill himself. He was said to have left a message admitting that he was a German officer.
After the World War I ended Miss Elliott worked for the Royal Society of Chemistry, remaining with the society until she retired in 1937. She volunteered as a nurse and interpreter at the outbreak of the Second World War and died at the age of 58 in 1944.
But Brian Emsley, spokesman for the Royal Society of Chemistry, said there were many gaps in her life story - and invited any one who knew more about her to get in touch.
The society's records suggested that she had been to a German-speaking school in Holland, but knew little of her background or involvement in the shadowy world of espionage.
Family history
This week Janet Carter of Ancestors Professional Genealogy Service contacted the society casting more light on her life and identifying her living relations.
It was a life with many solitary aspects. Born in 1885 in east London, Miss Elliott had been orphaned at the age of two, when both her parents had died in their early forties.
She had gone to live with an uncle in Cricklewood in north London - and perhaps explaining how she ended up as a fluent German speaker and attending a school on the continent - she had nearby in-laws who were originally from Germany.
There had been a sizeable German population in London at the beginning of the 20th Century - which faced riots and anti-German propaganda during the First World War. Newspapers had "spy editors" who offered rewards for tip-offs about German suspects - almost all of whom were innocent.
Mabel Elliott did not get married or have children. But she has a surviving great niece, Rosalind Noble, who lives in Surrey.
Her husband John Noble says that the family was proud of Miss Elliott's wartime achievements - and an award she was given by the French government. She was remembered as a "well-liked" woman who could speak languages, but someone who had never known her own parents.
The Royal Society of Chemistry was also approached with information suggesting that her interception of secret messages was no accidental discovery.
Suspect address
This suggested that the British secret intelligence service in Rotterdam had warned their counterparts in London of a specific suspect Dutch address - and there were instructions for all letters to this address to be stopped and scrutinised for secret messages.
Miss Elliott would have been one of the staff who would have checked these letters for hidden writing.
There were 35 spies caught during the war by the agency that from 1916 was called MI5.
There was also a challenge to the idea that Miss Elliott's evidence in the spying trial had been given under a false name - as some contemporary reports, including the Daily Mirror, correctly identified her.
The Royal Society of Chemistry still believes there are loose threads in this tale of surveillance and secret messages. Why did this "shy spinster" receive an award from the French government? What was the real story behind the death of the accused spy who had claimed to be an innocent American salesman?
"The RSC has had so much interest since the story appeared," said Mr Emsley, who now wants to keep gathering information.
"We have some information from two genealogists who have approached us about Mabel's childhood.
"But we really need somebody who knew her or her work. We hear that Americans were not keen on the arrest and trial because they saw it as a slur on one of their own.
"The death in prison was bizarre too - he feared hanging but he hanged himself, amateurishly, which could not have been as efficient as a professional job."
Almost a century after Mabel Elliott uncovered the invisible ink, the society is still hoping there will be people who will help them to read between the lines.