No pot of gold, Gove tells striking teachers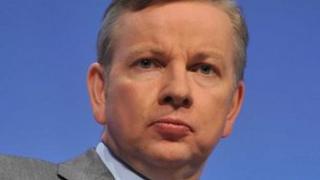 Michael Gove has warned teachers there is no hidden "pot of gold" to improve the deal the government is offering in the dispute over pensions.
Speaking to the Times Educational Supplement ahead of next week's planned strikes across the UK, the education secretary said he was willing to talk.
But he warned striking would undermine teachers' best chances of securing a deal.
Teaching unions have said the deal is "too little, too late".
Under the plans pensions contributions are set to rise at least 50% from 6.4% to 9.6% of pay. There are also plans to phase in a retirement age of 68.
'We've listened'
However, the latest deal, presented to public sector workers earlier this month, would offer anyone retiring in the next 10 years protection from the changes.
Mr Gove told the TES he sympathised with teachers' position.
"We've listened. There is a good offer on the table. And there is flexibility within that offer to make sure we tailor any final deal to what professionals deserve.
"I absolutely want to talk, but the important thing the unions need to recognise is that there is not an additional pot of gold we are hiding from them."
He added: "There is a level beyond which, if people push it, then it becomes much more difficult for me to put the case to others within government that teachers deserve this deal."
'Unhelpful'
The Department for Education has said the impact of next Wednesday's strike on schools in England is likely to be severe. They are gathering information to try to predict how many schools will be hit.
When teachers went on strike in June, a third of schools were closed, a third partially closed and a third open. But this month's strikes are set to have a bigger impact as more unions are set to take action.
The National Union of Teachers said the government was still asking teachers to pay a lot more and get a lot less. It added that it was difficult the union to consider any new offer that did not contain any additional funds from the government.
The NASUWT teaching union agreed, saying Mr Gove's comments were "unhelpful".
Association of Teachers and Lecturers general secretary Mary Bousted condemned the latest offer as "too little, too late".
While The National Association of Head Teachers, which is poised to stage the first walkout in its history, advised Mr Gove not to alienate the profession.