Schools encouraged to offer meal deals to pupils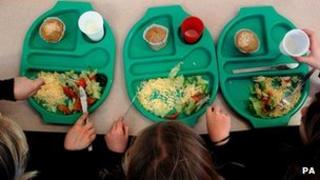 Schools are being encouraged to offer more cut-price meals in a bid to entice more pupils back into their canteens.
Many secondary students stop eating school lunches, often tempted by cheap local take-aways, the government says.
Schools wanting to offer their own meal-deals need special permission not to charge everyone the same amount per item.
From next year a change in the law will allow school dinner price promotions with less red tape.
Overall the number of pupils eating school meals are gradually increasing with 173,000 more pupils eating them in 2010-11 than the year before.
But at the start of secondary school there is a drop off. So under the new rules, schools would be able to offer a dinner-deal for pupils starting a new school to get them into the canteen.
Tackling obesity
Other options might be special prices for siblings regularly eating school meals, or cheap deals for different year groups each day to encourage them to choose healthy school meals rather than take-away chips.
Children's minister Sarah Teather said: "School meals beat take-away hands down on the quality of food they serve, but until now they have struggle to compete on price.
"These new powers are an important step in tackling childhood obesity and will mean schools can help hard pressed families."
Judy Hargadon, chief executive of the School Food Trust, said: "When children eat better, they do better - which is why we want to see more children able to have a healthy school meal every day.
Many parents have told us they would be more likely to try school meals for their child if they were on offer at a discount."
The changes will come in at the beginning of the school year, next September.
To safeguard pupils not included in a special offer, the rules will still prevent schools from charging more than the cost of providing the meal.