'More than half of elderly struggle' as prices rise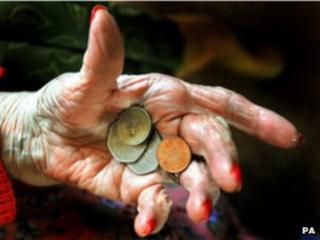 Elderly people are finding it harder to make ends meet as prices rise, says a report from the charity Age UK.
More than half of people aged 60 or over said it was more difficult to live on their incomes than a year ago, according to an ICM poll for Age UK.
A third said they can only just afford to buy the basics while one in 10 said they struggled to cope.
Michelle Mitchell, of Age UK, said: "Many old people are fearful of the future in this economic climate."
ICM polled more than a thousand elderly people earlier this month, to coincide with the publication of Age UK's report, Living on a Low Income in Later Life.
The report, based on in-depth interviews with 25 people, gave a snapshot of lives that revolved around making every penny count.
One 78-year-old woman said: "What you say is 'I don't really need it. I'll get by without it.' That's it."
Her view was typical of a group of people whose talk was of cutting back, making do and coping with the cost of fuel and food, according to the report.
Nearly one in seven admitted to having gone to bed when they were not tired - in order to keep warm.
Discount food
Others told the researchers, from Loughborough University, they only bought food at the end of the day when prices were reduced.
Some said they could not afford to replace a broken oven and so would make do by using a hob or a microwave instead.
Some people told the researchers their incomes were so finely balanced that they might not be able to manage if prices rose further or benefits such as free bus travel were cut.
The anecdotal evidence in the report was borne out by the poll figures which showed that nearly a quarter of people bought less food than they would like.
More than half said they had recently switched to cheaper brands of food.
Nearly one in five said they would find it hard to pay an unexpected bill of £150.
Ms Mitchell, Age UK's charity director, said: "Living on a low income is hard work. Currently there are 1.8 million people in later life living in poverty.
"Our polling suggests that many above the official poverty line are finding life hard.
"Older people tend to show a great deal of resilience in managing their money and eke out their incomes.
"This report demonstrates exactly how emotionally draining it is for older people to constantly survive on a low income," she said.