Tackling the 'toughest job' in the country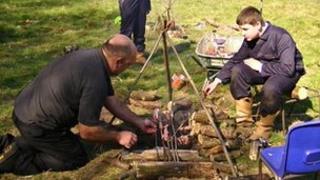 As head of the academy finding itself at the bottom of England's secondary school league tables, Principal Cheryl Heron has got one of the toughest jobs in the country.
Just 3% of pupils at St Aldhelm's Academy in Poole got five good GCSEs including English and maths in last year's exams, official data shows.
But behind the harsh truth of the numbers lies a more complex story.
The delights of Poole harbour, one of England's most sought after seaside locations, may be just a few miles away, but the Rossmore area that the school serves could not be more distant.
It draws its pupils from three challenging council estates and a large, settled traveller community.
"When people think of Poole they think of Sandbanks, but our BH12 postcode does not just cover that area, it covers one of the most socially deprived areas in south-west England," says Ms Heron.
"Some 42% of our pupils are settled travellers, which is one of the highest rates in the country. And our Ofsted report shows how children arrive at the academy with exceptionally low levels of achievement."
Ms Heron, who took over as principal when the school became an academy in September 2010, adds: "The problems of the school we took over were totally disengaged, totally disenfranchised young people who have very low self-esteem. There was poor teaching and learning."
Poole Borough Council freely admits that the predecessor school, Rossmore Community College, had a long history of underperformance. This is why it chose to go down the academy route to turn things around, in this case sponsored by Bournemouth University and the Diocese of Salisbury.
'Collaborate not damn'
The GCSE results the school have just published were very disappointing but not unexpected, says Ms Heron, who points out that she and her team only took over at the beginning of the academic year in which the students sat their GCSEs.
"Educational transformation and change does not happen overnight. When our Year 11 young people took their exams, we had been working with them for eight months.
"That is a very short time to influence and impact upon the skills and abilities they developed during the previous 10 years for school."
But according to Ms Heron, the process of turning things around is already under way, and the school has already seen a marked improvement in attendance and behaviour, with no exclusions last year.
She also points to a 100% pass rate for the vocational qualifications that her pupils took. And Ofsted notes the progress that the school has made in raising standards.
The inspectors say St Aldhelm's now offers a wider and more stimulating curriculum for its pupils.
One of its features are "vocational experiences" with land-based or farming studies. The school now uses the 10 acres of woodland on its site for this, and also works in partnership with local stables, an organic farm and on kitchen gardens at a local estate.
Ms Heron says pupils who are disengaged often need to work more with their hands, and land-based studies are perfect for this.
"We are working hard, we really are. What we want to do is welcome everybody to come and have a look round. We need to collaborate not to damn."
She adds: "Yes I have got one of the toughest jobs in the country but, you know, I love it, it isn't the first time I've done it, and I am in it for the long term."