Mums launch student home swap scheme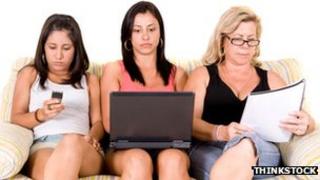 Two parents from Brighton have set up a scheme where parents can "swap" their children when they go away to university.
The idea is that parents who have a spare room while their child is away might take in a student from the town where their child is studying.
Their child would go to that student's home - for free.
It is the brainchild of Hermione Pask, of Unihomeswap, who says it could save families thousands of pounds a year.
The mother of a teenage girl, Ms Pask says she had the idea when talking to a friend during a car journey.
"Her son was already at university and we were discussing how expensive it was," she said.
"I was saying because I can't afford it, I would have to send my daughter to Brighton and that might be a shame because it might not have the course she wants.
"I said it would be good if students could swap - and suddenly had this idea. I rushed home and bought up eight website domain names and began work on the idea."
She enlisted the support of her friend Becci Cari.
The website links students and families interested in organising such a swap. They pay a joining fee of £25 and then make any arrangements themselves, using a guide from the website.
Students do not pay for their rooms but might contribute to the food bill if they share meals with the family.
The website's founders have been in touch with universities about their idea and are visiting colleges on careers days to talk to student and parents about it.
Ms Pask said: "In the '60s, students used to stay in family houses then in the '80s, there was a 'Young Ones' approach, with students living in a mad house.
"Now I think it is going to change again. Students are getting more serious and some might like this set-up.
"It could appeal to second and third years when they move out of halls and want to knuckle down and get their work done, or hard-working students going away from home for the first time who might like a home-from-home."
'Studentification'
Some parents - and students - might feel more secure with such accommodation, she says.
And she believes there would be a benefit to the community if students were more integrated.
"Sometimes people have a negative view of students," she said.
"In areas like Brighton, it's students that are doing a lot of the volunteering work that helps the poor in the community. It would be lovely if people appreciated it more.
"We also believe that we can help reduce areas of 'studentification', and problems of noise and pollution that can go with that by integrating students back into family homes."
Siobhan Freegard, the co-founder of the Netmums website, believes most parents who have got their children through the often turbulent teenage years will not relish swapping one teenager for another.
"For some, it's bad enough having your own 18-year-old living in your house - but at least you have the authority to say: 'Get the hell out of bed'," she said.
"I was talking to a friend yesterday about whether children should stay at home to go to university and she said she wanted her child to go away.
"She does not want him there, lying about in bed all morning or coming in late - and would rather not know about all that.
"It's also about letting go. Teenagers need to learn to look after themselves."
Ms Freegard said the idea might suit a minority of young people, but not most.
Emma, 19, a student at Warwick University, said the idea would not have appealed to her: "Almost everyone I know lives in a shared flat or house. I think that is best because you can meet people and make friends, even when you are working hard.
"If you are in a difficult financial situation, you can get very cheap shared accommodation - especially if you don't have your heating on.
"If money was that short, I think I would have taken a year off, lived at home and worked to raise some rather than live with a family. I enjoy the freedom and doing that would be even worse than living at home - because they would not be your parents."
Hermione Pask says some families have already signed up to try to find a suitable swap and she believes the idea will have special appeal to certain groups - especially single parents, environmentalists and particular ethnic groups.
"We realise it's not for everybody, but it's for a significant minority," she said.
"There are thousands of students out there."