Reading: Competition to encourage love of books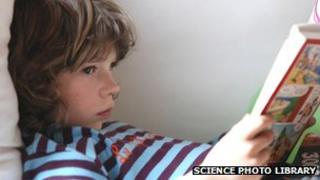 The government wants to launch a national reading competition in England to encourage a love of books and boost children's literacy.
The contest, for seven- to 12-year-olds, is likely to focus on who can read the most books.
Schools Minister Nick Gibb said the aim was "to give a competitive spur to reluctant readers".
But teachers' unions accused the government of an overprescriptive approach to literacy lessons.
The government said the competition was intended to encourage reading for pleasure in children who had already mastered the basics.
Mr Gibb added that he wanted everyone to have read at least one novel by Charles Dickens by the end of their teenage years.
He also said he hoped more 11-year-olds would achieve the higher grades in the literacy tests taken at the end of primary school.
Mr Gibb said: "Children should always have a book on the go. The difference in achievement between children who read for half an hour a day in their spare time and those who do not is huge - as much as a year's education by the time they are 15."
'Healthy competition'
In particular, Mr Gibb said he wanted to encourage boys to become voracious readers of fiction, as one in 10 was currently leaving primary school with the reading age of a seven-year-old.
"I hope this competition will inspire all children to read more, but boys especially who are spurred on by a bit of healthy competition," he said.
The competition will be launched in September with local, regional and national prizes.
The details will be decided nearer the time, but the government has said that it wants parents to be involved and young people to help select the books to be included.
But there have been criticisms of government policy on literacy teaching.
Christine Blower, general secretary of the National Union of Teachers, said: "Instead of inventing new competitions, the government should provide the resources and the freedom children and teachers need to ensure all children become good readers."
She added that the government had placed too much emphasis on phonics teaching, and this risked putting some young readers off books.
"The government needs to accept that phonics is not the only way that children learn to read.
"For it to be presented as such is both misleading and detrimental to those for whom it simply won't work."
Ms Blower also said that cuts in public libraries were harming young readers.
The shadow education secretary, Stephen Twigg, said cuts to a one-to-one tuition scheme for children who struggled with reading would affect up to 9,000 children.
"These are exactly the kind of pupils who need help the most - those who are at risk of falling behind with their reading and writing," he said.
Phonic boom
Boosting literacy levels has been a key part of the government's education policy, with international comparisons showing English pupils falling behind.
According to the OECD's Pisa tests, 15-year-olds in England are at least six months behind those in Hong Kong, Singapore, Canada, New Zealand, Japan and Australia.
The government's favoured method of boosting reading standards has been to encourage the use of synthetic phonics - where children are taught to blend letter sounds to make words - in primary schools.
Since September, primary schools which sign up to teaching phonics have been offered up to £3,000 matched funding towards materials and training.
So far more than 4,000 schools have joined the scheme.