How taking a child into care can be a split-second decision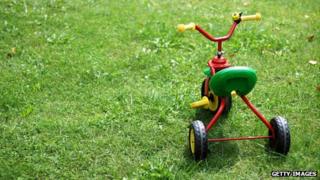 Social workers took nearly 10,000 children into care in England alone last year and in extreme cases a child can be removed from their home immediately. But what circumstances can lead to such drastic action?
A scream echoed down the stairwell of a block of flats in Bristol.
"Leave my baby," wailed a woman's voice from an upstairs flat.
Inside the flat Ben Crang, a social worker from Bristol Child Protection Team, had just made the decision to remove a baby from his home and his mother.
As he carried the silent child down the stairs, he admitted this was an "unconventional case", as he had met the mother less than an hour ago.
"It's gone from zero to 100 in the space of a few hours - that doesn't often happen, thankfully," Ben admitted. So what had happened here?
At-risk register
Earlier this month, new figures revealed the number of children referred into care in England had hit a record high.
Numbers have been rising since late 2008, after the case of Baby P, who died while on the at-risk register in London.
But taking a child into care immediately is extremely rare.
"The last time we went and came back with a baby was three years ago," explained Ben's boss James Arthur, back in the office. "It can happen in a planned way when we've fully assessed, but to go out with the police to remove (a child) is very unusual."
His job was now to find the boy a foster home, while Ben fed the child and two fellow social workers fussed over him.
The case had been opened after a call had come into their office earlier that day, from a health worker who was concerned a 14-month-old baby had been sexually abused.
The mother was living with a known sex offender, despite being warned by police.
Ben's first job was to talk to the mother and to try to make it clear to her that the baby would not be able to stay in the home with the man, because the risk was too great.
As a social worker, he has no powers to remove a child from a home, so he had also arranged to meet two police officers at the home so they would be able to take out a Police Protection Order if needed.
No choice
The mother's boyfriend had a history of sex offences going back 30 years, and was standing outside the block of flats having a cigarette, when Ben arrived.
"I've done nothing wrong," he immediately said to Ben.
He pointed out that while he had been questioned by police last year about an offence, no further action had been taken. He claimed he had been "proved innocent".
"I think there's a distinction between not having enough evidence and being proved innocent," Ben told him before getting in the police car to discuss what his plan was.
Once in the flat Ben - accompanied by police - explained to the mother that they wanted to find alternative accommodation for her and the baby but also said the one thing they could not do was leave the baby there.
"I won't let you take my son," she said. "Get out of my flat." After 40 minutes of trying to reason with the mother, Ben decided he had no choice but to take the child and leave.
"(The mother) had been drinking and it became increasingly clear she wouldn't be able to make an informed decision and do the right thing. This is one of those instances where you have to do an extremely difficult thing," he said.
Ben explained his decision-making process to his boss when he got back to the office. "We couldn't get through to her - she accepted the risk from him and is even worried he might have done something to him (the baby).
"It was no, no, no to everything. Ultimately we had to pick him up and leave and the police had to deal with the aftermath."
All through this, the baby remained peaceful. He did not make any fuss in the office and in the car over to his new foster home he sang to Ben.
He settled in with the foster carers easily and doctors who examined the boy pointed out he was "unusually accepting of strangers", wanting immediately to be cuddled by one of them.
Ben's main concern was whether the baby had been sexually abused but the doctors found no physical evidence.
However the foster family reported he was very unhappy at having his nappy changed and being dressed.
Ben pointed out that no physical evidence did not mean nothing had happened.
"What we know is he had plenty of opportunities to sexually abuse this child and disturbingly he took major responsibility for changing nappies. Why would you do that if it's not your child and mum's willing to do it? So that's slightly disturbing. Perhaps we'll never know."
The baby thrived in foster care while Ben and his team still communicated with the mother about returning him home.
The long-term hope is he will be reunited with his mother, but only if she can prove to the courts that she can keep him safe.
"If I were to pick one thing that gives me the most satisfaction, it is getting in the way of a paedophile who is homing in on a child. The opportunity to stop that happening makes it all worthwhile," admitted Ben.
"When we have a success that's never out there splattered across the papers. 'Social services save a child' - you'll never see that headline."
Protecting our Children is on BBC Two, Monday from 13 February 21:00 GMT or watch online afterwards (UK only) and two previous episodes at the above link.