More than a third of schools judged not good enough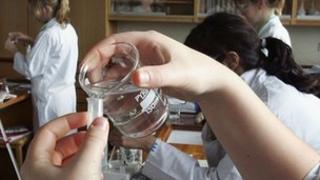 More than a third of schools in England were rated not good enough by the schools watchdog, Ofsted, during the last three months of 2011.
Figures published on Tuesday, showed 6% of the schools inspected were inadequate and 31% were satisfactory.
Ofsted wants to change "satisfactory" to "requires improvement".
The Association of School and College Leaders (ASCL) said inspectors visited lower achieving schools more often which skewed the figures.
The figures showed that 46% of the 1,679 state schools inspected late last year were deemed good and 18% were outstanding.
But ASCL general secretary Brian Lightman said Ofsted currently does not inspect outstanding schools regularly and only inspects good schools once every five years.
"Given the skewed sample, we should be celebrating the fact that two thirds of these schools are now rated good or outstanding", said Mr Lightman.
School effectiveness
In its summary of the figures, Ofsted said there was a strong relationship between the overall effectiveness of schools and the inspectors' judgement on the quality of teaching.
Of the 294 schools rated outstanding, 88% were found to have good or outstanding teaching.
Last month, Ofsted's new chief inspector of schools, Sir Michael Wilshaw, said schools should only be rated outstanding if their teaching was outstanding.
In his first major speech, Sir Michael pledged to review the status of the quarter of outstanding schools where teaching did not reach the highest standard.
He said there needed to be "clear and demanding criteria" for a school to be judged outstanding or good and added: "We have tolerated mediocrity for too long".
Teaching unions accused him of "trashing the school system".