Kicked out of class: Sophie's story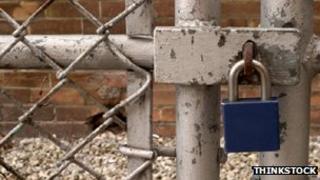 Sophie was no model, A-grade student. She admits to talking too much in class and having a bit of an "attitude" sometimes.
Sophie, whose name has been changed to protect her identity, had had a few detentions and even fixed-term exclusions.
But when a letter from her school arrived home saying she should move to a college for her final year of GCSEs, her parents were completely amazed.
"I was so shocked that I hadn't been approached by the school, there had been no invitation to come in and discuss what they were thinking of doing," said her mother Natalie, also not her real name.
When she did finally get to discuss it with the school leadership, she said it was clear they meant to permanently exclude her daughter.
"The school was adamant that she wasn't going back into school that September.
"I said it was an exclusion and they said it wasn't, but it was clear that she was not going to be allowed to come back," she added.
Contrary to legislation, the letter the family received had made no mention of the word "exclusion" and did not inform the parents of their right to lodge an appeal against it.
It is these sorts of unofficial exclusions that Children's Commissioner Maggie Atkinson says in her report she has found evidence of.
Natalie sought legal advice from the charity, Just For Kids Law, and began corresponding with the school's solicitors.
The letter the family had received highlighted a poor attendance record and a problem with Sophie's attitude. Such factors often contribute to poor results and poor relationships with teachers.
But the letter also suggested she was unlikely to do as well as expected in her forthcoming GCSEs.
'Under the radar'
In later conversations with the school it became apparent that Sophie's likely grades were a major issue.
Natalie said she had always understood that schools supported children who were struggling, by getting the parents involved and working with them to improve things.
At the same time, it emerged, another group of pupils were being channelled down the same road towards alternative provision.
Natalie said: "I feel they were filtering out some of the girls who were not going to attain the results the school wanted to see - that maybe the school is under this pressure to achieve a certain percentage of A* to C grades at GCSE."
She said she understood this, but felt the key issues were how well the child was supported and treated.
After repeated correspondence from Just for Kids Law solicitor Rachel Knowles setting out legal arguments in depth as to why the proposed exclusion was unlawful, the school backed down and allowed Sophie to return.
Ms Knowles said this was often the outcome of such cases because head teachers knew they were acting illegally and had to concede.
She said it was difficult to tell how common it was for schools to use unofficial exclusions, but feared they may be on the increase.
"There are obviously no statistics on it, because it's happening under the radar.
"But in the last six months I've had two or three cases of people coming to me and saying, 'I went to school and they told me not to come back'."
She also said her solicitor colleagues in the same field were reporting an increase in similar cases.
Most parents are unaware that exclusions, fixed term or permanent, are governed by strict rules and procedures, she added.
"They don't necessarily realise that what has happened is an unofficial exclusion," she said, and this may lead to them not challenging the situation.
She recalled another case where a child was excluded for the actions of a parent who had shouted at the teacher and been physically intimidating.
"In that case we challenged it and he was accepted back in school."
But Ms Knowles said in the main unofficial and illegal exclusions happen when the school does not know how to handle a difficult pupil.
"Sometimes it happens if there's a problem child who has been creating havoc in the school, but they haven't quite done enough to be permanently excluded," she said.
"Schools definitely know what the official process is and just don't follow it properly," she added.
National Association of Head Teachers general secretary Russell Hobby said there was no suggestion that the practice was widespread.
But he added: "Some schools will be using more informal mechanisms so nothing shows up on a child's record."
He suggested some heads might think it better to get something in place than to leave a child "hanging around" while provision is being organised.
"We should be open about how we exclude children and we shouldn't be ashamed of it."
But he stressed that schools are under a huge amount of pressure to meet their league table and Ofsted targets.