NASUWT leader attacks 'cutout' Michael Gove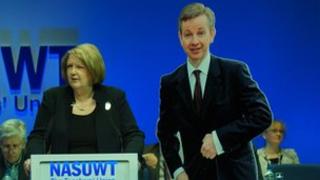 Teachers' union leader Chris Keates delivered her keynote conference speech beside a full-size cardboard cutout of Michael Gove.
The NASUWT leader said the education secretary was now the "poster boy" for building support for teachers' unions.
Ms Keates accused the government of eroding the professional status of teachers.
The Department for Education earlier said reforms had "put power back into the hands" of teachers.
Ms Keates, addressing her union's annual conference in Birmingham, said she was appearing alongside the cardboard cutout because Mr Gove had been responsible for "soaring" recruitment to the union.
She added that ministers should be there in person to face teachers at union conferences.
There have been no speakers from either the Conservatives or Liberal Democrats at this year's conference.
'Plundering pensions'
In an angry attack on the coalition government, Ms Keates claimed that ministers had been "demolishing state education" and carrying out "savage cuts" to education budgets.
Teachers' pay, pensions and employment rights were being undermined, she said.
She accused the government of feeding the public a "diet of myths and misinformation" about teachers' pensions.
"Pensions have been plundered. Financially viable and sustainable pensions schemes have been torn up," she told delegates.
In an Easter morning speech which drew a standing ovation, she said schools were being bullied into becoming academies in order to "clear a path for the privateers and marketeers".
"Their ambition is to make a fast buck out of the taxpayer, but more disgracefully out of the education of our children and young people," she said.
The conferences of the NASUWT and the other major teachers' union, the NUT, both backed calls on Saturday for a campaign of industrial action which could bring disruption to schools this year.
Speaking on Sunday, Ms Keates did not rule out the possibility the NASUWT would join the NUT in co-ordinated action over pensions during the summer term. However, the timetable would depend on the approval of her members.
The NASUWT had anticipated it would escalate its industrial action from the autumn term.
A Department for Education spokeswoman had previously rejected the teachers' union criticisms of government education policy.
"We are putting power back into the hands of talented heads and teachers - allowing them to get on with raising standards without interference from Whitehall or politicians."
The education department also rejected claims made by conference delegates on Saturday that academies were a stepping stone to privatisation of state schools.
"The academy programme is not privatisation," said a DFE spokeswoman.