Rules tightened on GCSE and A-level exam seminars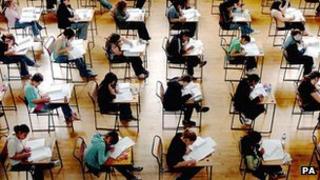 Exam board seminars relating specifically to named GCSEs and A-levels taken in England are being halted from next year.
Exams regulator Ofqual investigated the issue after the Daily Telegraph printed extracts from seminars held by four boards.
They appeared to show teachers being given information - including questions - about future exams.
Ofqual head Glenys Stacey said teachers should not gain unfairly from seminars.
The inquiry looking into the claims made by the newspaper found there were problems with some seminars, but these were not systemic and related to limited specific incidents.
'Privileged information'
An examiner from Edexcel was suspended as a result of the allegations and two from Welsh board WJEC, which also had to rewrite and delay one of its exams.
Ms Stacey said: "The new rules will make sure that schools and teachers have access to the information they need to understand the exams their pupils are taking. However, they should not get privileged information by attending face-to-face events with those who set the questions.
"We know the value of teachers interacting with experts from exam boards, but we have concluded that there are better ways for information to be shared, such as live online events or 'webinars'.
"These methods can easily be made available to all teachers, not just those who can attend meetings."
She also announced a review of the way controlled assessments were used. This is where pupils are set work to do either in or outside of class, which contributes towards the final grade.
Edexcel, which suspended an examiner contracted to work for the board part-time for making unprofessional comments, said it was essential that teachers were given support with exams
Rod Bristow, president of Edexcel's parent company, Pearson UK, said: "Events of the past six months have, however, demonstrated the risks associated with this.
"We have already taken strong action to ensure that the information shared through events and other channels is always appropriate. Many of our events will be online, and all will be recorded, to enable a high degree of transparency.
"These new measures are also reflected in the guidance issued by Ofqual today."
'Outrageous'
WJEC head Gareth Pierce said: "We are pleased that we will still be able to offer face-to-face events to introduce new specifications, for training relating specifically to controlled assessment, and also for general training to enrich teachers' work in the classroom.
"For training sessions in the current academic year and in 2012-13 we have already implemented a range of measures to ensure consistency of the information provided, including clearer guidelines to contributors at face-to-face events."
A Department for Education spokesman said it was vital that confidence in the exam system was restored.
"It is outrageous that privileged information was shared at some exam seminars and we welcome the action Ofqual is taking on this.
"We also share Ofqual's concerns about controlled assessment, as do many schools, so their review of this will be very welcome.
"We want all exams in England to stand comparison with, and be as rigorous as, those in the best-performing education jurisdictions."
'Damage'
Responding to the changes, Mark Dawe, chief executive of exam board OCR, said his board's seminars for teachers were not found to be of concern to the regulator during its investigation.
"However, we understand the need to take action against the risk of inappropriate behaviour by a handful of rogue examiners as uncovered by the Daily Telegraph.
"We are disappointed that Ofqual has not consulted widely, especially with the teaching profession, in its rushed decision to end face-to-face teacher seminars."
Ofqual also found no cause for concern in AQA board seminars, but its chief executive Andrew Hall said he was not complacent.
"We recognise the damage that has been caused to public confidence as a result of evidence showing that information was inappropriately shared at some other organisations' seminars.
"AQA is the largest provider of teacher support events and already offers a lot of web-based support."