School records 'too crude for super-diverse UK '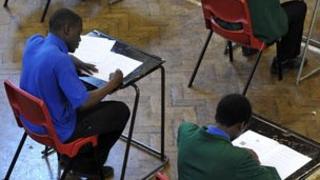 Schools should keep detailed records of the languages spoken by ethnic minority pupils, according to a report.
Researchers from London Metropolitan University say simply to record pupils' ethnicity is too imprecise a measure as Britain becomes more diverse.
The study is the first analysis of the achievements of linguistic minorities in English schools. The government said it was developing new ethnicity standards that would help schools collect detailed information.
The researchers, from London Metropolitan's Institute for Policy Studies in Education set out to identify which linguistic minorities struggle in education in England and where they are located.
Previous studies have suggested that pupils with English as an additional language do better than the national average at GCSE.
But the researchers found that while this was true in inner London it was not the case in other regions.
They also found that in some regions the data being collected about pupils' first languages and ethnicity was imprecise.
Report author Ayo Mansaray said: "Britain is becoming more ethnically and linguistically diverse every day, beyond London and urban areas typically associated with multi-ethnic populations.
"But the statistics being collected and the research being done are not keeping up with this diversity."
'Super-diversity'
The team analysed GCSE records from 2007 to 2011, looking at the proportion achieving five good grades (A* to C), including maths and English.
They found in particular that speakers of other languages lagged behind in Yorkshire, Humber and the North West.
The report states: "Overall, many of the widest attainment gaps are present in local authorities with substantial Pakistani ethnic minority groups - for example Peterborough, Oldham, Bedford, Bury, Derby, Sheffield and Calderdale, who tend to speak Urdu, Punjabi or Mirpuri and experience economic disadvantage."
The team also identified the fact that the educational and language profile of ethnic communities from Eastern Europe was often hidden in the 'white' and 'white other' categories.
The report also calls for black African ethnic groups to be grouped according to language to give a fuller picture of their educational achievements and needs.
"There is a real dearth of information examining which specific linguistic groups are attaining less well at school and where they are located," says the report.
"Indeed this data is generally not systematically collected, and where it is collected, attainment is often not analysed by linguistic group, only ethnicity. "
The report says that given the growing "super-diversity" of England and the rest of the UK, crude ethnic categories in government data mask the finer detail and may be getting in the way of understanding minority communities' relative achievements and needs.
"If we are to get any closer closer to understanding the role of language, bilingualism and multilingualism in children's relative attainment we need better data and more fine-grained analysis," the report states.
The report was commissioned by Arvon, a charity which promotes writing for all and runs creative writing classes for minority children in their first languages.