Michael Gove hints at dropping CSE plans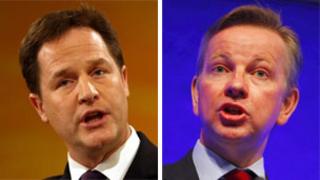 Education Secretary Michael Gove has hinted he may not introduce a new CSE-type exam alongside the expected return of O-levels.
In a speech, Mr Gove said that he expected every child to have the opportunity to take the tougher exam.
Aides added he wanted "no separation of sheep and goats" and suggested slower learners could simply take the O-level later in their school lives.
They denied this was a "watering-down" of his proposals announced last week.
On Thursday, reports in the Daily Mail suggested Mr Gove was preparing to replace GCSEs in England from autumn 2014 and also to bring in a simpler exam for less academic teenagers.
This was reported as the return of O-levels and CSEs, the system that was in place before GCSEs were introduced in the 1980s.
Mr Gove was summoned to the Commons that day to answer urgent questions on the proposals.
The Deputy Prime Minister Nick Clegg came out against the plans, saying they could lead to a two-tier system.
'Testing exams'
Speaking at a Spectator conference in London on Tuesday, Mr Gove said: "I want us to ensure that in the next 10 years, at least 80% of our young people are on course to securing good passes in properly testing exams in maths, English and science - more rigorous than those our children sit now.
"This goal, while explicitly ambitious, is also entirely achievable. In Singapore the exams designed for 16-year-olds embody all those virtues and are taken successfully by 80% - and rising - of the population."
Mr Gove said he would like to see a society in which every child, unless there were specific reasons, had the chance to make their own choices on exams.
He suggested that in future, children could sit exams at different stages of their school careers.
"I think one of the most debilitating things in our entire education system has been the idea that you make judgements early in a child's career about what they're fit for.
"And I think one of the things we need to do is to make sure that hopefully by the age of 16, but if not at 16 then at 17 or 18, that a child is equipped with the level of qualifications to make those choices themselves."
Opposition debate
Later on Tuesday, at an opposition day debate in the Commons, Mr Gove threw further doubt on the plans reported last week.
Asked whether he was ruling out the return of CSEs, he said: "We will strengthen GCSEs and world-class qualifications.
"I've ruled out any two-tier system, I want a one-tier system... we will have one qualification for all pupils."
He repeatedly refused to answer questions from Labour MPs about whether the leaked details of his proposals in the Daily Mail last week were correct.
Mr Gove's stance may be seen as a shift from last week's proposals, which suggested that less able pupils would sit simpler examinations similar to the old CSEs.
Speaking at the debate, shadow education secretary Stephen Twigg criticised last week's report.
"These proposals were leaked just as pupils were sitting their GCSEs," said Mr Twigg.
"As nervous and stressed young people were queuing up to sit hugely important exams, the secretary of state was saying they were worthless - how insulting.
"How insulting to young people who had studied and revised so hard."
No details of Mr Gove's planned reforms have been published by the government.
Officials say details will be given within the next two months and will be subject to consultation.